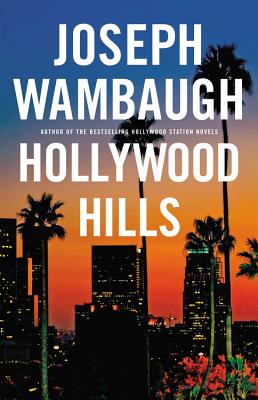 Hollywood Hills (Hardcover)
Little, Brown and Company, 9780316129503, 368pp.
Publication Date: November 1, 2010
Other Editions of This Title:
Digital Audiobook (11/15/2010)
Hardcover, Large Print (11/16/2010)
Mass Market (7/1/2011)
CD-Audio (11/16/2010)
Compact Disc (11/1/2010)
Paperback (2/1/2012)
Hardcover (1/1/2011)
Pre-Recorded Audio Player (11/16/2010)
* Individual store prices may vary.
Description
The legendary Hollywood Hills are home to wealth, fame, and power--passing through the neighborhood, it's hard not to get a little greedy.

LAPD veteran "Hollywood Nate" Weiss could take or leave the opulence, but he wouldn't say no to onscreen fame. He may get his shot when he catches the appreciative eye of B-list director Rudy Ressler, and his troublemaking fiancée, Leona Brueger, the older-but-still-foxy widow of a processed-meat tycoon. Nate tries to elude her crafty seductions, but consents to keep an eye on their estate in the Hollywood Hills while they're away.

Also minding the mansion is Raleigh Dibble, a hapless ex-con trying to put the past behind him. Raleigh is all too happy to be set up for the job--as butler-cum-watchdog--by Nigel Wickland, Leona's impeccably dressed art dealer. What Raleigh doesn't realize is that under the natty clothes and posh accent, Nigel has a nefarious plan: two paintings hanging on the mansion's walls will guarantee them more money than they've ever seen.

Everyone's dreams are just within reach--the only problem is, this is Hollywood. A circle of teenage burglars that the media has dubbed The Bling Ring has taken to pillaging the homes of Hollywood celebutants like Paris Hilton and Lindsay Lohan, and when a pair of drug-addled young copycats stumbles upon Nigel's heist, that's just the beginning of the disaster to come. Soon Hollywood Nate, surfer cops Flotsam and Jetsam, and the rest of the team at Hollywood Station have a deadly situation on their hands.

Hollywood Hills is a raucous and dangerous roller coaster ride that showcases Joseph Wambaugh in vintage form.
About the Author
Joseph Wambaugh, a former LAPD detective sergeant, is the bestselling author of 19 prior works of fiction and nonfiction, including "The Choirboys" and "The Onion Field." In 2004, he was named Grand Master by the Mystery Writers of America. He lives in southern California.
Praise For Hollywood Hills…
"good news for fans of the Hollywood Station trilogy that was supposed to have ended with Hollywood Moon. Now here comes Hollywood Hills, extending another golden opportunity to ride with the uniformed crew at what must be the most colorful cop-shop under the sun.... Wambaugh salts the narrative with variously funny, sad and thoughtful anecdotes featuring a cast of characters we've come to treasure: handsome Hollywood Nate, the surfer cops Flotsam and Jetsam, and veterans like Viv Daley and Della Ravelle, burned by experience, but conscientiously training the next generation to face the fire."
-New York Times Book Review

"If Los Angeles police detective-sergeant-turned-author Joseph Wambaugh didn't invent the modern cop novel, he's been one of its most prolific and successful practitioners.... Dark slapstick--with rimshot dialogue worthy of Jay Leno--often ensues when these police officers cross paths with eccentric Hollywood-dwellers. But there's nothing comical about the murder and mayhem lurking behind the palm trees.... Yet one way or another these enforcers of the law--like their author--continue to get the job done."
-Wall Street Journal

"Joseph Wambaugh's Hollywood series was supposed to be a trilogy. Good news for readers that he changed his mind. His take on the Hollywood cop shop is colorful...these characters fighting crime are not to be missed. Neither are the criminals they pursue.... And in addition to stupid criminals, there are some gut-wrenching, psychologically difficult criminal interludes that remind the reader that for all the stupid wrongdoers who find their reward, there are also innocent victims, and these victims take their own kind of toll. Wambaugh mixes the light and the dark in a unique way. Hollywood Hills is a keeper.... The book should be satisfying to those familiar with the series, and a tantalizing starting point for those who are not."
-The Denver Post

"It's Joseph Wambaugh's world. Other crime writers just live in it. Beginning with his 1971 novel, The New Centurions, and his 1973 nonfiction masterpiece, The Onion Field, the former Los Angeles Police Department detective all but created the modern L.A. police procedural. Wambaugh's work chronicles the true lives of those involved in the dirty business of law and order, and has provided the foundational language, style and conventions for the countless writers who have tried, with mixed results, to follow in his footsteps. Hollywood Hills, Wambaugh's newest novel, is a cogent reminder that he remains on the beat, and as effective as ever."
-Los Angeles Times

"What fun it is to read Joseph Wambaugh! His Hollywood Station police procedurals - peppered with the requisite gunshots and groin kicks, sleaze and sunshine - are word-drunk wonders. If James Joyce had imagined Finnegans Wake as a crime story (hmmm, not a bad idea since plot was never Joyce's strong suit), it might have turned out something like Wambaugh's latest suspense story, Hollywood Hills....this series serves up something perhaps even more welcome as the drear days of winter settle in: an absurdist take on crime, as well as plotlines and sentences that perform buoyant loop-de-loops all over the page before making flawless landings."
-Washington Post

"No writer describes the cop world's twin masks of comedy and tragedy as well as Joseph Wambaugh.... In Hollywood Hills, the fourth novel in a series that portrays the LAPD cops who work out of Hollywood Station, Wambaugh again offers dark humor, social satire, and police drama. His carefully drawn characters are colorful but utterly believable. The cops aren't super cops, but fairly ordinary, vulnerable, and imperfect human beings, which adds to their appeal.... Like Wambaugh's previous novels, Hollywood Hills is an entertaining and starkly realistic ride-along with the LAPD."
-Philadelphia Inquirer
or
Not Currently Available for Direct Purchase