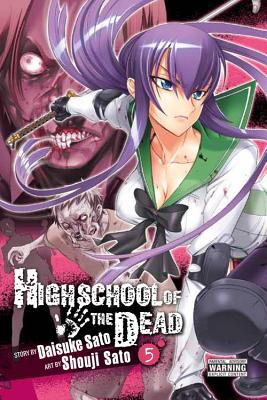 Highschool of the Dead, Vol. 5 (Paperback)
Yen Press, 9780316132466, 160pp.
Publication Date: January 24, 2012
* Individual store prices may vary.
Description
Takashi and his fellow students join up with a band of survivors who have barricaded themselves inside a local mall. Though the shopping center seems a well-stocked place to hide from the undead lurking outside, the policewoman in charge is having a hard time maintaining peace within. The group from Fujimi High would rather not get involved in a power struggle and tries to stay under the radar until they are ready to set off again. But with so many attractive, buxom girls among the students, it may be nearly impossible to avoid unwanted attention of the worst kind...
About the Author
Shouji Sato, artist of "Highschool of the Dead" and creator of "Triage X," has also released a great number of adult erotic titles as part of the doujinshi circles DIGITAL ACCEL WORKS and GEBOKUDOU.

Daisuke Sato is a novelist who has also worked on a number of manga scripts, including "Highschool of the Dead."