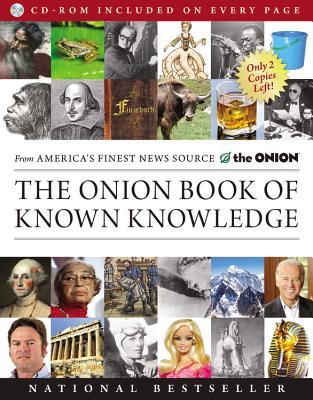 The Onion Book of Known Knowledge: A Definitive Encyclopaedia of Existing Information (Paperback)
A Definitive Encyclopaedia of Existing Information
Little Brown and Company, 9780316133241, 256pp.
Publication Date: October 29, 2013
Description
A devastatingly important encyclopedia from America's Finest News Source that contains the sum total of mankind's knowledge. Are you tired of stumbling around blindly, in an ignorant haze, perplexed by the world around you? What if there was a book that could make sense of your ultimately meaningless existence? Fortunately, The Onion, bastion of unbiased, reliable, and definitive news, has produced just such a book: an encyclopedia containing all of mankind's known knowledge. And now, in a remarkably innovative tactic bound to send shockwaves through the entire publishing industry, THE ONION BOOK OF KNOWN KNOWLEDGE is now available in a cheaper-yes, cheaper-paperback edition. Thousands of brilliant and essential text entries, colorful graphics, illustrations, and diagrams can now be yours for but a beggar's pittance. And is that not a small price to for eternal wisdom?
About the Author
In a history spanning 24 years, eight popular books, and numerous awards, The Onion has attracted legions of loyal fans drawn to its fearless reporting and scathing commentary on world events, human behavior, and journalistic convention. Its home offices are in Chicago.
Praise For The Onion Book of Known Knowledge: A Definitive Encyclopaedia of Existing Information…
"An encyclopedic fun house of information and illustrations teeming with hundreds of entries covering everything from the letter A to Zibby the cartoon squirrel."
-Elle

"One of the best works that "The Onion" has ever produced...[it] dryly parodies an encyclopedia in the most comprehensive manner imaginable."
-- Huffington Post Comedy

"A tome so replete with knowledge [that it allows readers] to win friends and influence people."
-- Entertainment Weekly

"Forget Wikipedia, burn all your books, and snap that Encarta CD Rom in half, because The Onion has just released its BOOK OF KNOWN KNOWLEDGE."
-- MSN's The Bubble

"Leave it to the geniuses at The Onion, who have revolutionized the science of sarcasmic infoengineering in the weekly print newspaper format, to do the same for the venerable encyclopedia. Miraculously, in only 250 or so pages, they have managed to cram more meaningful information about our universe into one book than Google or Bing or even Alta Vista have been able to do with several times that number of "web pages"."
-Popmatters.com
Advertisement