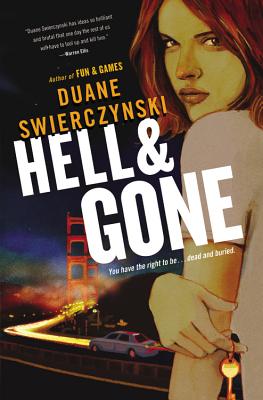 Hell and Gone (Charlie Hardie #2) (Paperback)
Mulholland Books, 9780316133296, 304pp.
Publication Date: October 31, 2011
Other Editions of This Title:
Digital Audiobook (10/30/2011)
Paperback, Large Print (10/19/2012)
Compact Disc (11/1/2011)
Paperback (10/1/2011)
Pre-Recorded Audio Player (12/1/2011)
* Individual store prices may vary.
Description
The second of three high-energy thrillers arriving back-to-back from cult crime fiction sensation Duane Swierczynski.

Left for dead after an epic shootout that blew the lid off a billion-dollar conspiracy, ex-cop Charlie Hardie quickly realizes that when you're dealing with The Accident People, things can get worse. Drugged, bound and transported by strange operatives of unknown origin, Hardie awakens to find himself captive in a secret prison that houses the most dangerous criminals on earth.

And then things get really bad. Because this isn't just any prison. It's a Kafkaesque nightmare that comes springloaded with a brutal catch-22: Hardie's the warden. And any attempt to escape triggers a "death mechanism" that will kill everyone down here--including a group of innocent guards. Faced with an unworkable paradox, and knowing that his wife and son could be next on the Accident People's hit list, Hardie has only one choice: fight his way to the heart of this hell hole and make a deal with the Devil himself.
About the Author
Duane Swierczynski is the author of several crime thrillers and also writes the X-Men spinoff CABLE and IMMORTAL IRON FIST for Marvel Comics. His latest novels include EXPIRATION DATE; LEVEL 26, cowritten with CSI creator Anthony E,. Zuicker; and SEVERANCE PACKAGE, which has been optioned by Lionsgate films. He lives in Philadelphia with his wife and children.
Praise For Hell and Gone (Charlie Hardie #2)…
"Charlie's internal voice is fun to follow and the action sequences are killer. I could easily see these books as a major summer blockbuster... the book goes from action to action, rarely stopping to catch a breath and I stayed up late one night turning the pages to the end...If non-stop, cool action sequences with fun characters are your thing, you need to read some Swierczynski stories."—Wired.com

"Frenetic [and] breathless .Those waiting for the payoff promised ... will feel amply rewarded by the end."—Publishers Weekly (starred)

"The compelling premise pulls all our paranoid strings, and Swierczynski, like a mad scientist twirling dials, ratchets the tension ever tighter.... Stay tuned for part three of what may be the most unusual thriller series in a long, long time."—Booklist

"Duane Swierczynski puts the rest of the crime-writing world on notice. So learn to spell the last name. He's going to be around for awhile."—Laura Lippman

"Duane Swierczynski has ideas so brilliant and brutal that one day the rest of us will have to tool up and kill him."—Warren Ellis

PRAISE FOR FUN & GAMES:

"Insanely entertaining."—Josh Bazell, author of the New York Times bestseller Beat the Reaper

"More exciting than whatever you're reading now, this is Duane Swierczynski's breakout novel."—Ed Brubaker, Harvey- and Eisner-Award-winning author of Criminal and Incognito

"A high octane, cinematic delight . . . I loved it, man. Duane Swierczynski is the bomb, and this book is a white-hot nuclear explosion."—Joe R. Lansdale, Edgar Award-winning author of The Bottoms, Leather Maiden, and Devil Red

"An audacious, propulsive thrill ride that kidnapped me on page one and didn't look back."—Brian Azzarello, Harvey- and Eisner-Award-winning author of 100 Bullets and Loveless

"Cool, suspenseful, tragic, and funny as hell, Fun and Games is Duane Swierczynski's best yet. I haven't had this much fun reading in a long time."—Sara Gran, author of Dope and Come Closer
or
Not Currently Available for Direct Purchase