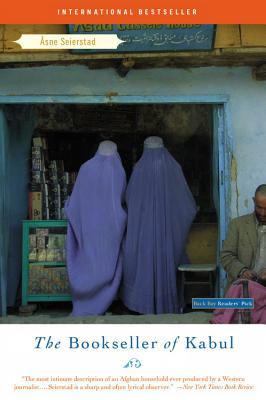 The Bookseller of Kabul
Paperback

* Individual store prices may vary.
Other Editions of This Title:
Prebound (10/1/2004)
Hardcover (10/1/2003)
Compact Disc (3/1/2005)
Description
With The Bookseller of Kabul, award-winning journalist Asne Seierstad has given readers a first-hand look at Afghani life as few outsiders have seen it.

Invited to live with Sultan Khan, a bookseller in Kabul, and his family for months, this account of her experience allows the Khans to speak for themselves, giving us a genuinely gripping and moving portrait of a family, and of a country of great cultural riches and extreme contradictions. For more than 20 years, Sultan Khan has defied the authorities -- whether Communist or Taliban -- to supply books to the people of Kabul. He has been arrested, interrogated, and imprisoned, and has watched illiterate Taliban soldiers burn piles of his books in the street. Yet he had persisted in his passion for books, shedding light in one of the world's darkest places. This is the intimate portrait of a man of principle and of his family -- two wives, five children, and many relatives sharing a small four-room house in this war ravaged city. But more than that, it is a rare look at contemporary life under Islam, where even after the Taliban's collapse, the women must submit to arranged marriages, polygamous husbands, and crippling limitations on their ability to travel, learn and communicate with others.
Praise For The Bookseller of Kabul…
"The most intimate description of an Afghan household ever produced by a Western journalist. . . . Seierstad is a sharp and often lyrical observer."
—
Richard McGill Murphy
,
New York Times Book Review
"An admirable, revealing portrait of daily life in a country that Washington claims to have liberated but does not begin to understand. Seierstad writes of individuals, but her message is larger."
—
Mark Hertsgaard
,
Washington Post Book World
"A compelling portrait of a country at a crossroads - desperate for tranquillity, factionalized beyond imagination, struggling both to uphold tradition and to modernize, hoping to prove to itself and the rest of the world that it knows peace and stability."
—
Scott W. Helman
,
Boston Globe
"An unusually intimate glimpse of a traditional Afghan family. . . . Seierstad imbues a grim story with language of desolate beauty."
—
S. L. Allen
,
Entertainment Weekly
"A compelling book. . . . Seierstad infiltrated a world most readers will never see."
—
Steve Weinberg
,
Denver Post
Back Bay Books, 9780316159418, 320pp.
Publication Date: October 26, 2004
About the Author
Asne Seierstad has reported from such war-torn regions as Chechnya, China, Kosovo, Afghanistan, and Iraq. She has received numerous awards for her journalism. She is the author of A Hundred and One Days as well as The Bookseller of Kabul, an international bestseller that has been translated into twenty-six languages. Seierstad makes her home in Norway and travels frequently to the United States.