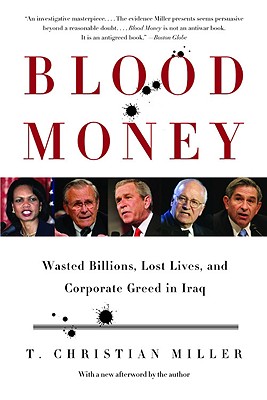 Blood Money (Paperback)
Wasted Billions, Lost Lives, and Corporate Greed in Iraq
Back Bay Books, 9780316166287, 368pp.
Publication Date: May 2, 2007
Other Editions of This Title:
Hardcover (8/1/2006)
* Individual store prices may vary.
Description
It was supposed to be quick, easy, and cheap: the Bush administration promised American taxpayers that Iraqi oil revenues would pay for it all. But thousands of lives and billions of dollars later, the Iraqi reconstruction is an undeniable failure, overrun by staggering corruption, waste, and incompetence. In BLOOD MONEY, "top-flight
investigative reporter" (Mother Jones) T. Christian Miller reveals how the Bush administration failed to keep its promises and allowed a nation to tumble into chaos. Widely hailed as one of the most important books about the quagmire, BLOOD MONEY is essential reading for anyone who cares about the fate of Iraq, and about America's place in the world.
About the Author
T. Christian Miller is an investigative reporter who writes for the Los Angeles Times' Washington bureau. In his career as a professional journalist, he has covered four wars and a presidential campaign, and has reported from more than two dozen countries. He is a graduate of the University of California at Berkeley and lives in Washington, D.C. with his wife and two children.