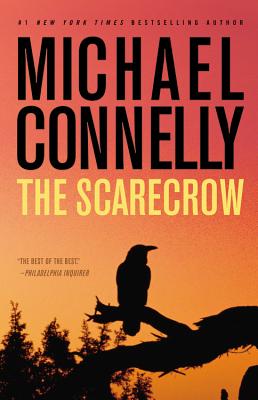 The Scarecrow
Hardcover

* Individual store prices may vary.
Description
Forced out of the Los Angeles Times amid the latest budget cuts, newspaperman Jack McEvoy decides to go out with a bang, using his final days at the paper to write the definitive murder story of his career.

He focuses on Alonzo Winslow, a 16-year-old drug dealer in jail after confessing to a brutal murder. But as he delves into the story, Jack realizes that Winslow's so-called confession is bogus. The kid might actually be innocent.

Jack is soon running with his biggest story since The Poet made his career years ago. He is tracking a killer who operates completely below police radar--and with perfect knowledge of any move against him. Including Jack's.
Praise For The Scarecrow…
"Terrific....Connelly never stops doling out the suspense as action leads to counteraction....His thriller is an addictive read that, once it grabs you in those first few pages, won't let go of you....High-grade entertainment."
-Boston Globe

"The Scarecrow is a dire warning about the dangers of electronic snooping. And it is a page-turning thriller--cleverly plotted, fast-paced and crisply written."
-San Francisco Chronicle

"Connelly is one of the masters of contemporary crime fiction....Connelly's masterful narrative...proceeds in alternate chapters...which adds to this particularly chilling heavy's creepy aspect. It's a terrific device. Connelly always has been frank about his admiration for Raymond Chandler. It's a high bar to set for oneself, but he comes as close to clearing it as any mystery writer of his generation."
-Los Angeles Times

"Connelly nails the death-of-newspapers theme....Alternating point of view between villain and reporter, Connelly builds tension expertly, using dramatic irony to its fullest, screw-tightening potential. Even confirmed Harry Bosch fans will have to admit that this Harry-less novel is one of Connelly's very best."
-Booklist

"What drives this story are not the vivid action scenes but the more internal clue-reading of his heroes as they piece together the ingenious mystery plots."
-Entertainment Weekly

"With its ingenious story line and the twisted brilliance of the creeps involved, The Scarecrow holds its own with its predecessor [The Poet], which was a breakthrough novel for Connelly."
-Washington Post

"A riveting thriller with a flawed, fully fleshed hero, a nasty serial killer and the expected page-turning tension."
-Miami Herald

"Connelly has the nerve and timing of a whole SWAT team."
-New York Times

"Connelly masterfully whips the reader back and forth between McEvoy's point of view and the killer's, accelerating the pace as the full threat to McEvoy and Rachel Walling becomes clearer. The Scarecrow is Connelly in top form. And reading it will make it impossible for you to ever again think that when you do something online, no one's watching."
-St. Petersburg Times

"There's something so comforting about knowing you're in the hands of a master when you pick up a new book....Connelly has produced one of the most impressive bodies of work in crime fiction, both an in-depth study of the darker side of human nature and an ongoing biography of the city of Los Angeles, told through the guise of sharply plotted, endlessly entertaining mystery novels."
-Chicago Sun-Times
Little, Brown and Company, 9780316166300, 448pp.
Publication Date: May 26, 2009
About the Author
Michael Connelly is the bestselling author of the Harry Bosch series of novels as well as The Poet, Blood Work, Void Moon, Chasing the Dime, andthe #1 "New York Times "bestseller "The Lincoln Lawyer." He is a former newspaper reporter who has won numerous awards for his journalism and his novels. He spends his time in California and Florida.
Book Videos
or
Not Currently Available for Direct Purchase