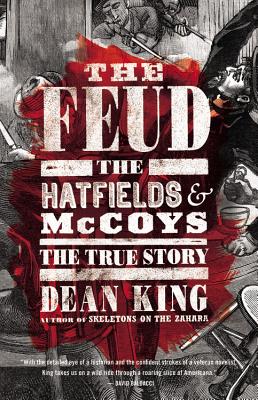 The Feud (Hardcover)
The Hatfields and McCoys: The True Story
Little, Brown and Company, 9780316167062, 448pp.
Publication Date: May 14, 2013
Other Editions of This Title:
Digital Audiobook (5/13/2013)
Paperback (5/27/2014)
Compact Disc (5/14/2013)
Compact Disc (5/14/2013)
* Individual store prices may vary.
Description
For more than a century, the enduring feud between the Hatfields and the McCoys has been American shorthand for passionate, unyielding, and even violent confrontation. Yet despite numerous articles, books, television shows, and feature films, nobody has ever told the in-depth true story of this legendarily fierce-and far-reaching-clash in the heart of Appalachia. Drawing upon years of original research, including the discovery of previously lost and ignored documents and interviews with relatives of both families, bestselling author Dean King finally gives us the full, unvarnished tale, one vastly more enthralling than the myth.

Unlike previous accounts, King's begins in the mid-nineteenth century, when the Hatfields and McCoys lived side-by-side in relative harmony. Theirs was a hardscrabble life of farming and hunting, timbering and moonshining-and raising large and boisterous families-in the rugged hollows and hills of Virginia and Kentucky. Cut off from much of the outside world, these descendants of Scots-Irish and English pioneers spoke a language many Americans would find hard to understand. Yet contrary to popular belief, the Hatfields and McCoys were established and influential landowners who had intermarried and worked together for decades.

When the Civil War came, and the outside world crashed into their lives, family members were forced to choose sides. After the war, the lines that had been drawn remained-and the violence not only lived on but became personal. By the time the fury finally subsided, a dozen family members would be in the grave. The hostilities grew to be a national spectacle, and the cycle of killing, kidnapping, stalking by bounty hunters, and skirmishing between governors spawned a legal battle that went all the way to the United States Supreme Court and still influences us today.

Filled with bitter quarrels, reckless affairs, treacherous betrayals, relentless mercenaries, and courageous detectives, The Feud is the riveting story of two frontier families struggling for survival within the narrow confines of an unforgiving land. It is a formative American tale, and in it, we see the reflection of our own family bonds and the lengths to which we might go in order to defend our honor, our loyalties, and our livelihood.
About the Author
Dean King is the author of the national bestseller Skeletons on the Zahara. He has written for many publications, including Men's Journal, Esquire, Garden & Gun, Granta, Outside, New York Magazine, and the New York Times. He lives in Richmond, Virginia.
Praise For The Feud: The Hatfields and McCoys: The True Story…
"Fast-paced....Scrupulously documented....
The Feud
is popular history as it ought to be written."
---Barton Swaim,
Wall Street Journal
—
-
"4 Stars."
---Matt Damsker,
USA Today
—
-
"King's well-researched narrative confidently separates hearsay from fact, and bulges with bloody set pieces and visceral family passions which exploded into savage fighting that went on for nearly a decade."
---Matthew Price,
Boston Globe
—
-
"Well-documented, authoritative, and entertaining....King has done an admirable job of research, and his able narrative matches the convoluted, bloody facts."
---Mark Gamin,
Cleveland Plain Dealer
—
-
"The definitive account of the feud...as riveting as it is informative."
---Doug Childers,
Richmond Times-Dispatch
—
-
"A fast-paced...fascinating and lurid tale. King's entertaining chronicle sheds new light on a legendary chapter in American history."
—
Publishers Weekly
"Well-written, superbly researched....An outstanding reexamination of a mythic and savage story."
—
Booklist
"Engrossing....Riveting yet nuanced...Highly recommended."
---Claire Houck,
Library Journal
—
-
or
Not Currently Available for Direct Purchase