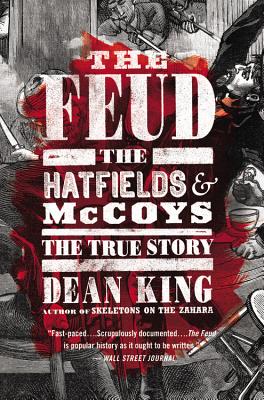 The Feud: The Hatfields and McCoys: The True Story (Paperback)
The Hatfields and McCoys: The True Story
Back Bay Books, 9780316167079, 430pp.
Publication Date: May 27, 2014
Description
"Marvelous....THE FEUD is popular history as it ought to be written." ---Wall Street Journal
Nearly every American has heard of the Hatfields and the McCoys. The violent feud between these two families has become shorthand for fierce, unyielding, and even violent confrontation. Yet despite numerous articles, books, television shows, and feature films, until THE FEUD nobody has ever told the true story of this legendary clash in the heart of Appalachia. Drawing upon years of original research, including the discovery of previously lost and ignored evidence and interviews with surviving relatives of both families, Dean King has crafted a rip-roaring narrative packed with brutal murders, reckless affairs, mercenaries and detectives, and the long shadows of the Civil War. The result is an unvarnished and vastly entertaining work of history.
About the Author
Dean King is the author of the national bestseller Skeletons on the Zahara, Unbound and A Sea of Words. He has written for many publications, including Men's Journal, Esquire, Garden & Gun, Granta, Outside, and the New York Times. He lives in Richmond, Virginia.
Praise For The Feud: The Hatfields and McCoys: The True Story…
"A fast-paced...fascinating and lurid tale. King's entertaining chronicle sheds new light on a legendary chapter in American history."—Publishers Weekly

"A masterpiece. I knew The Feud would be well-written and exhaustively researched and reported-that's the kind of writer Dean King is-but I little suspected what a page-turner it would be. From its first few pages, when a young, unarmed Devil Anse Hatfield kicks a black bear up a tree, to its satisfying finale, I was spellbound. The last word on the daddy of American feuds."—James Donovan, bestselling author of The Blood of Heroes and A Terrible Glory

"Well-written, superbly researched...an outstanding reexamination of a mythic...and savage story."—Booklist

"Shakespeare had his Montagues and Capulets, but say the word "feud" to any American, and only one comes almost reflexively to mind: Hatfields versus McCoys. And yet hardly anyone knows what it was really all about. Dean King, an elegant and adventurous writer, has dug through the encrusted layers of lore and atmospherics to understand the rich context behind this tragic and fascinating clash of families. The result is a work of American history that spans state lines and generations-and resonates powerfully today."—Hampton Sides, bestselling author of Blood and Thunder and Hellhound on His Trail

"Dean King has written a riveting and detailed account of the legendary blood feud between the Hatfields and McCoys. Put aside everything you thought you knew about these infamous folks. This expertly researched history provides a new and fresh chronicle of two families torn apart by war and betrayal. It will fascinate and surprise you."—Adriana Trigiani, bestselling author of Big Stone Gap and The Shoemaker's Wife

"With a master storyteller's talent for pacing, character and detail, Dean King transports us to the remote ridges and hollows of the West Virginia-Kentucky borderlands and into the lives of a people as rough-hewn as the landscape they inhabit, writing with such vividness you can smell the wood smoke and the gunpowder, the stink of the whiskey still, and the pungence of revenge."—James Campbell, author of The Final Frontiersman and The Ghost Mountain Boys

"As a native West Virginian who was close to both families, grew up hearing the stories, and later read every book written on the subject, I am surprised and fascinated by the amount of in-depth original research and anecdotal information unearthed in The Feud. With a novelist's flair for telling a story, King reveals many new and pertinent insights into the characters, relationships and events of that turbulent time in American history. I am a huge fan of King's writing."—Darrell Fetty, producer of the History Channel's "Hatfields & McCoys" miniseries and the documentary "America's Greatest Feud: The Hatfields & McCoys."

"A thriller-like, in-depth look at a darkly iconic slice of Americana. Highly recommended."—Marc Leepson, author of Saving Monticello

"A riveting yet nuanced...Engrossing...Highly recommended."—Claire Houck, Library Journal

"An informed account-both reasoned and reasonable-of the irrational."—Kirkus Reviews
Advertisement