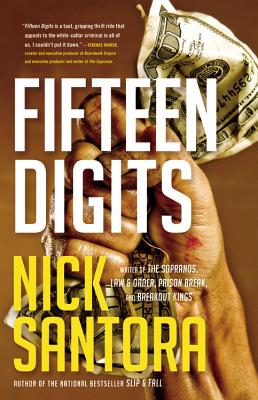 Fifteen Digits (Hardcover)
Mulholland Books, 9780316176316, 336pp.
Publication Date: April 24, 2012
Other Editions of This Title:
Digital Audiobook (4/23/2012)
Paperback, Large Print (12/11/2012)
Paperback (4/23/2013)
Paperback (4/1/2012)
* Individual store prices may vary.
Description
A GRITTY THRILLER SET IN THE WORLD OF POWERFUL NEW YORK LAW FIRMS, FROM NICK SANTORA, WRITER OF THE HIT CRIME DRAMAS THE SOPRANOS, LAW & ORDER, PRISON BREAK and BREAKOUT KINGS AND THE NATIONALLY BESTSELLING AUTHOR OF SLIP & FALL.

Is it really insider trading if you've been an outsider your entire life?

Five men. Five walks of life. Every day they come together at the white shoe law firm Olmstead & Taft. But they're not lawyers. They're "Printers": blue-collar guys consigned to the dark basement of the firm charged with copying, collating and delivering the mountains of paperwork that document millions of dollars of sensitive legal secrets.

Until the five are approached by an ambitious young attorney who teaches them what they have: insider information. Together they make a plan to take the classified documents that pass through their hands every day and use them to get rich. They create a joint account to deposit the spoils. An account with a safeguard--each one only knows one section of the access code.

Which means that for all five conspirators, there's no way out. But as too much money piles up to go unnoticed, the Printers will discover there's one thing even worse than being an outsider: being in too deep.
About the Author
NICK SANTORA was a lawyer before his first screenplay won Best Screenplay of the Competition at the 2001 New York International Independent Film Festival. A co-creator, executive producer, and writer for the hit A&E show Breakout Kings and former writer and co-executive producer of Prison Break, Nick Santora lives in Los Angeles, California.


Praise For Fifteen Digits…
"Santora expertly ratchets up the tension....almost sinfully seductive. Santora takes us far enough inside the separate worlds of our would-be profiteers that we can't help but sympathize with them. Readers will be mighty entertained."-—Washington Post

"A propulsive thriller that hurtles along to a brutal and--trust me--very unexpected conclusion. Santora has a TV writer's sense of pacing, but he also has an eye for character that keeps a reader emotionally engaged in the story. People looking for a Grisham-esque thriller with dash of The Sopranos will find the novel a great summer beach read."—The Hollywood Reporter

"FIFTEEN DIGITS is a taut, gripping thrill-ride that appeals to the white collar criminal in all of us. I couldn't put it down."—Terence Winter, Creator and Executive Producer of Boardwalk Empire, Executive Producer and Writer of The Sopranos

"Though we are told from the start that things will end tragically, the brutality and shocking suddenness of the climax still catch us by surprise . . . Santora pulls no punches with his Faustus-like story."—Kirkus Reviews

"FIFTEEN DIGITS reads like John Grisham and Martin Scorsese's nasty love child. Brimming with unique, indelible characters, it's a cautionary tale of greed, jealousy and vice."—Shawn Ryan, Creator and Executive Producer of The Shield

"The very cream of contemporary US crime [with] a surprising and shocking denouement."—Crime Time magazine

"Tense, colourful and full of surprises....a great read."—Shots magazine

"Nick Santora has a unique style of writing that I can only compare to John Grisham or Harlan Coben or a wonderful combination of both. I love this book and I love the ending because you never see it coming. "—Julie Moderson, BestsellersWorld.com

"The tension is palpable as very bad things begin to happen to the protagonists, and the reader will race through the book to see what horrors the next page brings."—Booklist (starred review)

Praise for SLIP & FALL:

"Nick Santora's characters will ensnare readers and pull them into the good, bad, and ugly of Robert Principe's life--a gripping thriller."—Vince Flynn