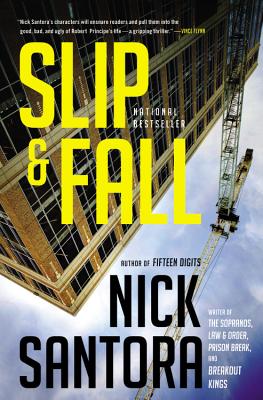 Slip & Fall (Paperback)
Mulholland Books, 9780316176446, 278pp.
Publication Date: April 3, 2012
* Individual store prices may vary.
or
Not Currently Available for Direct Purchase
Description
Faced with a struggling practice, a pregnant wife, and a sister in trouble, Robert Principe realizes the white-collar world isn't as easy as he thought. He needs money. Fast.

Desperate, he approaches his wiseguy cousin Jackie with an insurance scheme--a way for the Mob to collect from guys who owe but can't pay, and a chance for Robert to use his law degree to make a few quick bucks when he needs it most.

Robert thinks it will be a one-time thing. It isn't. The scheme works well--too well. The money flows, the violence escalates, and Robert soon learns that getting out of a deal with the Mafia isn't exactly easy...especially when the FBI is onto you.
About the Author
Nick Santora is a co-creator, executive-producer, and writer for the hit A&E show "Breakout Kings," and served as writer/co-executive producer of "Prison Break." He has also written for The Sopranos and Law and Order. A born and bred New Yorker, he now lives in Los Angeles, California.
Praise For Slip & Fall…
"Nick Santora's characters will ensnare readers and pull them into the good, bad, and ugly of Robert Principe's life--a gripping thriller."
-Vince Flynn

"A thriller with the quick pacing and vivid imagery that will catapult readers into a page-turning adventure. Themes of familial bonds and the struggle between the lure of success and the boundaries of ethics are cast in a way that will conjure up comparisons to John Grisham's The Firm, while fans of Prison Break will appreciate the hear and sould that underlies the gut-wrenching plot."
-www.BookReporter.com

"Slip & Fall is a riveting, high adrenaline thriller from a master storyteller. With unforgettable, fully formed characters and a truly gripping story line, Nick Santora's exploration of family, ambition, and violence makes for a truly remarkable debut novel."
-Paul T. Scheuring, Creator/Writer/Executive Producer, Prison Break

"Slip & Fall has true energy and well-timed pacing; the plot and writing are cinematic and quick, yet full of great description. People who like the tightly written stories of CSI and Law & Order will be the perfect audience."
-Wendy Battles, Writer/Co-Executive Producer, CSI:NY
Advertisement