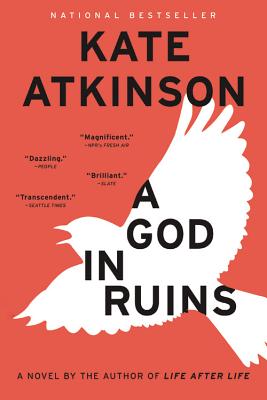 A God in Ruins (Paperback)
A Novel
Back Bay Books, 9780316176507, 480pp.
Publication Date: January 12, 2016
Other Editions of This Title:
Digital Audiobook (5/4/2015)
Hardcover (5/5/2015)
CD-Audio (5/5/2015)
Hardcover, Large Print (5/12/2015)
MP3 CD (5/5/2015)
Compact Disc (5/5/2015)
Paperback, Chinese (9/1/2015)
Pre-Recorded Audio Player (5/5/2015)
* Individual store prices may vary.
Description
Named one of the Best Books of the Year by TIME, NPR, Washington Post, Chicago Tribune, Christian Science Monitor, Seattle Times, Kansas City Star, Kirkus Reviews, Bookpage, Hudson Booksellers, and AARP.


The "magnificent" (NPR) companion to Kate Atkinson's #1 bestseller Life After Life, A God in Ruins is "nothing short of a masterpiece" (Paula Hawkins).

"He had been reconciled to death during the war and then suddenly the war was over and there was a next day and a next day. Part of him never adjusted to having a future."


Kate Atkinson's dazzling Life After Life explored the possibility of infinite chances and the power of choices, following Ursula Todd as she lived through the turbulent events of the last century over and over again.

A God in Ruins tells the dramatic story of the 20th Century through Ursula's beloved younger brother Teddy--would-be poet, heroic pilot, husband, father, and grandfather-as he navigates the perils and progress of a rapidly changing world. After all that Teddy endures in battle, his greatest challenge is living in a future he never expected to have.

An ingenious and moving exploration of one ordinary man's path through extraordinary times, A God in Ruins proves once again that Kate Atkinson is one of the finest novelists of our age.


About the Author
Kate Atkinson is the internationally bestselling author of eight novels, including Case Histories, One Good Turn, When Will There Be Good News?, Started Early, Took My Dog, and Life After Life. She lives in Edinburgh.
Praise For A God in Ruins: A Novel…
"A novel so sublime I would nominate it to represent all books in the Art Olympics. The afterword deserves a literary prize all to itself. It is, as claimed on the sumptuous proof, even better than Life After Life."—The Bookseller

"Only as the book unfolds is each character more fully revealed. Ms. Atkinson's artistry in making this happen is marvelously delicate and varied."—Janet Maslin, New York Times

"If you loved Atkinson's Life After Life, you're in luck. If you're one of the, say, five people who didn't read it: You're still in luck--Atkinson is a master at the top of her game. A quiet, moving portrait of a guy navigating life's small pleasures and painful failures."—Marie Claire

"Gorgeous, thought-provoking...once again, Atkinson explores the concept of paths not taken versus those that are. Her hero's journey has its trials...but also joys and deep love. Quiet, humble Teddy is easy to root for. At the end of this tender story (a weeper, by the way), you won't want to let him go."—Good Housekeeping

"Dazzling."—People

"A sprawling, unapologetically ambitious saga that tells the story of postwar Britain through the microcosm of a single family, and you remember what a big, old-school novel can do."—Tom Perotta, New York Times Book Review

"Atkinson's genre-bending novels have garnered critical praise, but nothing on the order of a Rushdie, or even an Ian McEwan. A God in Ruins should change that."—Amy Gentry, The Chicago Tribune

"Atkinson writes the way LeBron dunks or Stephen Hawking theorizes; she can't help but be brilliant."
—Leah Greenblatt, Entertainment Weekly

"Transcendent."—Moira Macdonald, The Seattle Times

"A staggeringly gorgeous book, offering through the story of one small, good, imperfect life, the chance to grieve and cherish so many more."—Ellis Avery, Boston Globe

"Ms. Atkinson rises beautifully to the challenge of dramatizing the raids, capturing the virtually suicidal nature of these operations in muscular, unsentimental prose."—Sam Sacks, The Wall Street Journal

"A novel that takes its place in the line of powerful works about young men and war, stretching from Stephen Crane's Red Badge of Courage to Kevin Powers's The Yellow Birds and Ben Fountain's Billy Lynn's Long Halftime Walk."—Maureen Corrigan, The Washington Post

"A sprawling, epic novel...A God in Ruins expresses the ways lives can be seen close up, in seemingly unconnected individual moments, or from a distance, as a series of through-lines."—Tasha Robinson, NPR.org

"...more subtly postmodern, shifting between past, present, and future in ways both subversive and perfectly organic."—Boris Kachka, New York Magazine

"As finely crafted as Life After Life...Having spun one great novel out of second, third and 50th chances, she's spun another out of the fact that in reality, we get only one."—Lev Grossman, Time

"A God in Ruins bills itself as a companion piece to Life After Life, rather than a sequel. In trying this, Atkinson joins some of the most innovative and impressive authors on both sides of the pond, including Hilary Mantel, Marilynne Robinson, and Jane Smiley, who are busy constructing high-brow trilogies and ambitious spinoffs of their own. Atkinson more than lives up to the challenge and proves herself worthy of her company."—Ester Bloom, BarnesandNoble.com

"A brilliant follow-up."—Katy Waldman, Slate

"A novel for people who love novels."—Tom Beer, Newsday

"Ms. Atkinson's thrumming imagination runs on premium prose, a perfect vehicle for conveying characters to new futures."—Susan Balée, The Pittsburgh Post-Gazette

"Magnificent...Atkinson fluidly executes these chronological loop-de-loops, leaving a reader to marvel at that most banal of epiphanies--how fast life goes by."
—Maureen Corrigan, NPR's "Fresh Air"


"This follow up [to Life After Life] tracks Ursula's brother, Teddy, a favorite son who flies an RAF bomber during the Second World War and remains kind, thoughtful, and patient through a life of quiet sadness...Teddy, unlike his sister, lives only one life, but Atkinson's deft handling of time, as she jumps from boyhood to old age and back, is impressive."—The New Yorker

"Nothing short of a masterpiece. Elegantly structured and beautifully told, it recounts the story of Teddy Todd, the brother of the protagonist of Atkinson's 2013 novel, Life After Life, in his attempt to live a 'good, quiet life' in the 20th century. Characteristically perceptive and poignant, like its predecessor it also gives a vivid and often thrilling account of life during the second world war--seen this time from the air rather than the streets of London."
—Paula Hawkins, Author of The Girl on the Train