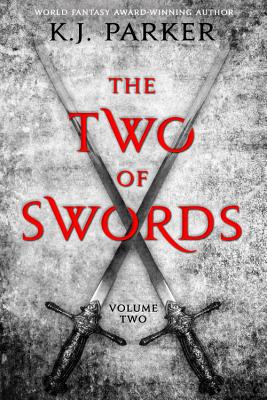 The Two of Swords (Paperback)
Volume Two
Orbit, 9780316177733, 432pp.
Publication Date: November 14, 2017
* Individual store prices may vary.
Description
The second volume in The Two of Swords trilogy by World Fantasy Award-winning author K. J. Parker.
"Why are we fighting this war? Because evil must be resisted, and sooner or later there comes a time when men of principle have to make a stand. Because war is good for business and it's better to die on our feet than live on our knees. Because they started it. But at this stage in the proceedings," he added, with a slightly lop-sided grin, "mostly from force of habit."

A soldier with a gift for archery. A woman who kills without care. Two brothers, both unbeatable generals, now fighting for opposing armies. No-one in the vast and once glorious United Empire remains untouched by the rift between East and West, and the war has been fought for as long as anyone can remember. Some still survive who know how it was started, but no-one knows how it will end.

The Two of Swords is the story of a war on a grand scale, told through the eyes of its soldiers, politicians, victims and heroes.
About the Author
K.J. Parker is a pseudonym for Tom Holt. He was born in London in 1961. At Oxford he studied bar billiards, ancient Greek agriculture and the care and feeding of small, temperamental Japanese motorcycle engines; interests which led him, perhaps inevitably, to qualify as a solicitor and emigrate to Somerset, where he specialized in death and taxes for seven years before going straight in 1995. He lives in Chard, Somerset, with his wife and daughter.
Praise For The Two of Swords: Volume Two…
"Parker's acerbic wit and knowledge of human nature are a delight to read as he explores the way conflict is guided, in equal measure, by the brilliance and unerring foolishness of humanity . . . . Thoroughly engaging."—RT Books Reviews on The Two of Swords: Volume One