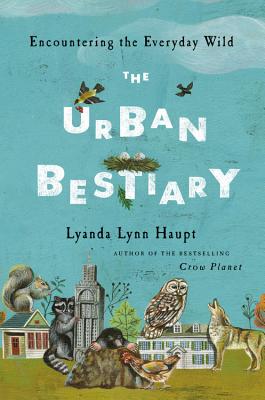 The Urban Bestiary
Encountering the Everyday Wild
Hardcover

* Individual store prices may vary.
Description
From the bestselling author of Crow Planet, a compelling journey into the secret lives of the wild animals at our back door.

In The Urban Bestiary, acclaimed nature writer Lyanda Lynn Haupt journeys into the heart of the everyday wild, where coyotes, raccoons, chickens, hawks, and humans live in closer proximity than ever before.

Haupt's observations bring compelling new questions to light: Whose "home" is this? Where does the wild end and the city begin? And what difference does it make to us as humans living our everyday lives?

In this wholly original blend of science, story, myth, and memoir, Haupt draws us into the secret world of the wild creatures that dwell among us in our urban neighborhoods, whether we are aware of them or not. With beautiful illustrations and practical sidebars on everything from animal tracking to opossum removal, The Urban Bestiary is a lyrical book that awakens wonder, delight, and respect for the urban wild, and our place within it.
Praise For The Urban Bestiary: Encountering the Everyday Wild…
"It is part of her book's persuasive charm that, for a little while at least, [Haupt] is able to direct our gaze to the chickadees outside the window and to make us forget, for a moment, the world beyond the garden wall."—Jonathan Rosen, Wall Street Journal

"An eloquent natural history of urban wildlife, and an insightful rumination on how the human animal has/should/might relate to what Haupt calls the 'new nature.' Haupt makes a significant contribution to that conversation....Haupt shares her observations from her Seattle home in a personal and engaging voice that moves seamlessly between backyard anecdotes and analysis of their ecological implications."—Tom Montgomery Fate, Boston Globe

"The challenge of our time is the movement from rural villages to big cities where nature seems gone. Haupt's brilliant book restores nature in our lives and uplifts that relationship with stories full of wonder, awe and love."—David Suzuki, author of The Sacred Balance: Rediscovering Our Place in Nature

"Animals are all around us, especially the most interesting birds of all that live with us. We can all watch them and enjoy and learn. Why go to South America and search for a quetzal sitting in a tree? Want to see real birds? Just put up a bird box and spread some seeds and watch sparrows in your back yard. The Urban Bestiary is a great read. It will get folks out there having fun."—Bernd Heinrich, author of Mind of the Raven and Life Everlasting

Praise for CROW PLANET:

"A completely charming and informative book on the pleasures of keeping one's eyes open."—David Sedaris

"In a lyrical narrative that blends science and conscience, Haupt mourns the encroachments of urbanization, but cherishes the wildness that survives."—New York Times

"An inspired meditation on our own place in nature....You will never again look at crows in the same way again."—Washington Post

"Haupt writes gracefully about the interactions between crows and humans in the urban landscape and what those interactions portend for the future of the zoöpolis. A fresh take on conscious living in the everyday world."—Kirkus Reviews

"With her sensitivity, careful eye, and gift for language, Haupt tells her tale beauitfully, using crow study to get at a range of ever-deepening concerns about nature and our place within it, immersing us in a heady hybrid of science, history, how-to, and memoir."—Los Angeles Times
Little, Brown Spark, 9780316178525, 352pp.
Publication Date: September 17, 2013
About the Author
Lyanda Lynn Haupt has created and directed educational programs for Seattle Audubon, worked in raptor rehabilitation in Vermont, and as a seabird researcher for the Fish and Wildlife Service in the remote tropical Pacific. She is the author of Pilgrim on the Great Bird Continent and Rare Encounters with Ordinary Birds (winner of the 2002 Washington State Book Award).

Her writing has appeared in Image, Open Spaces, Wild Earth, Conservation Biology Journal, Birdwatcher's Digest, and the Prairie Naturalist. She lives in West Seattle with her husband and daughter.