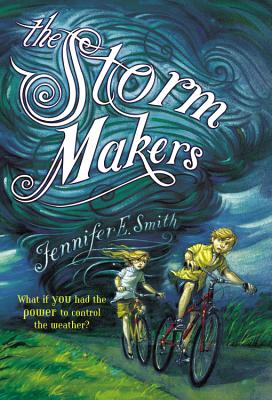 The Storm Makers (Paperback)
Little, Brown Books for Young Readers, 9780316179591, 384pp.
Publication Date: June 4, 2013
* Individual store prices may vary.
Description
What if you had the power to control the weather?
What starts as an ordinary summer turns exciting and perilous for twins Ruby and Simon when strange occurrences begin happening on their farm -- sudden gusts of wind, rainstorms, and even tornado warnings -- that seem eerily timed to Simon's emotions.
Then a stranger arrives and tells the twins that Simon is a Storm Maker -- part of a clandestine group of people entrusted with controlling and taming the weather -- and that he is in great danger. Soon Simon and Ruby must race against the clock as they try to master Simon's powers in time to stop a rogue Storm Maker's treacherous and potentially deadly plans.
In this thrilling new adventure, loyalties can shift as quickly as the wind . . . and the ordinary can turn extraordinary in the blink of an eye.
About the Author
Jennifer E. Smith is the author of The Statistical Probability of Love at First Sight, The Storm Makers, You Are Here and The Comeback Season. She earned a master's degree in creative writing from the University of St. Andrews in Scotland, and her work has been translated into thirty-one languages.
Praise For The Storm Makers…
"This appealing and elegantly written adventure tacks well to the lee of weather-related politics, relying instead for narrative power on vivid scenes, engaging characters and satisfying twists both of plot-and of wind."—The Wall Street Journal

"Smith expertly conjures the dusty feel of a Midwest where hope itself is baking away...this is miles away from most magical fare, and is therefore a real breath of fresh air."—Booklist

"Building like a summer storm, the pace and drama accelerate as thunderstorms, earthquakes, wildfires and tornadoes buffet the twin protagonists, who stand together as they face the elements....Credible and timely fantasy for the global-warming generation."—Kirkus Reviews

"It's easy to root for the twins, especially smart, science-savvy Ruby, who stands by her brother while struggling with her jealousy about his special status."—Publishers Weekly

"A good fit for the target audience...[with] broad appeal."—VOYA

"The idea of ordinary kids finding out they have extraordinary powers has time-honored appeal, and this sturdy, well-plotted fantasy successfully combines contemporary concerns with old-fashioned charm in a way that should please readers of Law's Savvy."—The Bulletin