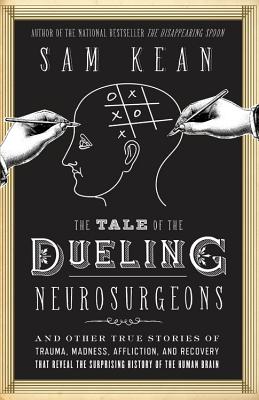 The Tale of the Dueling Neurosurgeons (Hardcover)
The History of the Human Brain as Revealed by True Stories of Trauma, Madness, and Recovery
Little, Brown and Company, 9780316182348, 416pp.
Publication Date: May 6, 2014
Other Editions of This Title:
Digital Audiobook (5/5/2014)
Paperback (6/9/2015)
Compact Disc (5/6/2014)
Paperback, Chinese (8/4/2018)
Compact Disc (5/6/2014)
* Individual store prices may vary.
Description
The author of the bestseller The Disappearing Spoon reveals the secret inner workings of the brain through strange but true stories.

Early studies of the functions of the human brain used a simple method: wait for misfortune to strike-strokes, seizures, infectious diseases, lobotomies, horrendous accidents-and see how the victim coped. In many cases survival was miraculous, and observers could only marvel at the transformations that took place afterward, altering victims' personalities. An injury to one section can leave a person unable to recognize loved ones; some brain trauma can even make you a pathological gambler, pedophile, or liar. But a few scientists realized that these injuries were an opportunity for studying brain function at its extremes. With lucid explanations and incisive wit, Sam Kean explains the brain's secret passageways while recounting forgotten stories of common people whose struggles, resiliency, and deep humanity made modern neuroscience possible.
About the Author
Sam Kean is the author of the New York Times bestsellers The Disappearing Spoon, The Violinist's Thumb, and The Bastard Brigade. His work has appeared in The New York Times Magazine, Mental Floss, Slate, and New Scientist, and has been featured on NPR's "Radiolab" and "All Things Considered."
Praise For The Tale of the Dueling Neurosurgeons: The History of the Human Brain as Revealed by True Stories of Trauma, Madness, and Recovery…
Longlisted for the 2015 PEN/E.O. Wilson Literary Science Writing Award

One of Amazon's Best Books of the Year: Science

One of The A.V. Club's Best Books of 2014

A Goodreads Choice Awards Finalist: Nonfiction

"This is Sam Kean's finest work yet, an entertaining and offbeat history of the brain populated with mad scientists, deranged criminals, geniuses, and wretched souls. The Tale of the Dueling Neurosurgeons is one of those books that will have you following your friends around, reading passages out loud, until they snatch the book away from you and read it for themselves. Good luck getting it back."—Amy Stewart, author of The Drunken Botanist

"Put your Netflix queue on hold. Sam Kean's The Tale of the Dueling Neurosurgeons will command your full attention from the first page. It's not just an engaging guide to mysteries of existence; it's compelling story-telling for anyone with a taste for the bizarre and metaphysical."—William Poundstone, author of Rock Breaks Scissors

"In tale after tale, best-selling author Kean provides a fascinating, and at times gloriously gory, look at how early efforts in neurosurgery were essentially a medical guessing game.... Entertaining and quotable, Kean's writing is sharp, and each individual story brings the history of neuroscience to life. Compulsively readable, wicked scientific fun."—Kirkus

"Reading this collection is like touring a museum of neuroscience's most dramatic anomalies, each chapter taking us to a different place and time.... Kean's colloquial language and intimate voice bring all of this series of mini-histories to life -- all of which are sure to stimulate a wide range of brains."—Publishers Weekly

"[Kean] proves an able guide, connecting each story with the science behind it, always with an air of enthusiastic curiosity."—Kate Tuttle, Boston Globe

"[Kean's] strength lies in his storytelling, and in the humane combination of humor and compassion toward the strange life histories he pieces together.... Kean has a penchant for the kind of vivid description that makes one want to clutch one's head tenderly close."—Margaret Quamme, Columbus Dispatch

"To pick up one of these stories is to lose oneself in them. Where does the brain end and the mind begin? Curious readers will find both brain and mind fully revved up while engaging with this powerfully appealing and thought-provoking work of neuroscience history."—Donna Chavez, Booklist

"The author's skill in illuminating how the brain functions and malfunctions manifest themselves in people's lives makes for absorbing reading....These avowals ultimately raise weighty, compelling questions about the nature of identity and what it means to be human."—The Wall Street Journal

"Strokes, seizures, accidents: if they don't kill, they can traumatize the brain so badly that an individual's personality can be significantly changed. But, explains New York Times best-selling author of the terrific The Violinist's Thumb, early neuroscientists saw such traumas as an opportunity to study the brain's wondrous workings."—Library Journal, "Barbara's Picks"

"Beyond paying tribute to the scientific advances these patients made possible, Kean humanizes the patients themselves."—Scientific American

"After tackling DNA and the periodic table in his previous books, Kean has moved on to the human brain, which he dissects via dozens of vivid anecdotes.... His subtle meta touches are a heady delight."—Joe McGovern, Entertainment Weekly

"Sam Kean can spin a tale as well as any fiction writer....Kean is a rare writer who approaches science writing as a child would a playground at recess. It's a wide-open field full of possibilities, limited only by the surroundings and what our imaginations can do with them."—PopMatters

"In the capable hands of science writer Sam Kean, stories of brain injuries shine just a bit brighter, illuminating not only the interesting characters delivering bedside diagnoses or lying on the examination table, but general principles of scientific discovery that are still relevant today....Kean breathes life into the patients as well as the physicians and scientists tasked with understanding the injuries."—The Scientist

Kean is "science's premier storyteller, the man who regularly turns the history of science into sagas filled with adventure, mystery, fascinating people, and fun."—The Washington Post

"Entrancing.... Sam Kean burrows into the workings of an organ once deemed as unknowable as the far reaches of the galaxy, and does so with boyish charm, accessible language, a prodigious amount of enthusiasm and the sobering realization that throughout history a catastrophic brain injury has ghoulishly been the neuroscientists best friend."—James Macgowan, Toronto Star

"These stories are entertaining....But they're also illuminating, as Kean shows how each one advanced scientific knowledge."—Washingtonian

"Kean delves into a scientific world before modern technology, and tells the stories of people who had sudden changes in personality, felt phantom limbs, pathologically lied, and experienced other mysteries traced back to the brain. He does so with humor and humanity, making the mind-boggling history of neuroscience a fun read."—Nicole Dubowitz, DCist

"Crammed with curious anecdotes from neuroscience's gory past."—Nature

"Mesmerizing.... With a razor-edged wit and intriguing narrative, the pages are easily devoured, all while Kean explores the deepest labyrinths of the brain."—Mellinda Hensley, Los Angeles Magazine

"Dueling Neurosurgeons will confirm Kean's already-solid reputation as a writer who can make anything understandable and interesting.[...] Although hugely entertaining (perhaps especially so in this era of vampire and zombie fascination), Kean's book contains amazingly clear details about our brains."—Winnipeg Free Press

"Engrossing, cleverly narrated."—Simon Lewsen, The Globe and Mail

"Breezy, informal, entertaining stories that link what we now know of the nervous system to events and personalities of the past."—James W. Kalat, American Psychological Association's PsycCRITIQUES