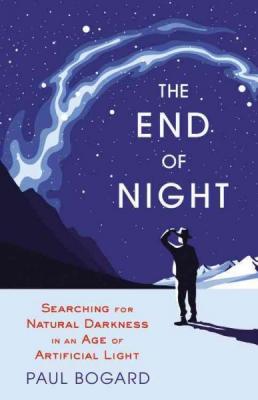 The End of Night (Hardcover)
Searching for Natural Darkness in an Age of Artificial Light
Little, Brown and Company, 9780316182904, 336pp.
Publication Date: July 9, 2013
Other Editions of This Title:
Digital Audiobook (3/31/2014)
Paperback (7/22/2014)
MP3 CD (4/26/2016)
Compact Disc (4/26/2016)
* Individual store prices may vary.
Description
A deeply panoramic tour of the night, from its brightest spots to the darkest skies we have left.
A starry night is one of nature's most magical wonders. Yet in our artificially lit world, three-quarters of Americans' eyes never switch to night vision and most of us no longer experience true darkness. In THE END OF NIGHT, Paul Bogard restores our awareness of the spectacularly primal, wildly dark night sky and how it has influenced the human experience across everything from science to art.

From Las Vegas' Luxor Beam--the brightest single spot on this planet--to nights so starlit the sky looks like snow, Bogard blends personal narrative, natural history, science, and history to shed light on the importance of darkness--what we've lost, what we still have, and what we might regain--and the simple ways we can reduce the brightness of our nights tonight.
About the Author
Paul Bogard teaches creative nonfiction at James Madison University. He is the editor of the anthology Let There Be Night: Testimony on Behalf of the Dark.
Praise For The End of Night: Searching for Natural Darkness in an Age of Artificial Light…
Longlisted for the PEN/E.O. Wilson Literary Science Writing Award
Finalist, Sigurd F. Olson Nature Writing Award
Chosen as one of Gizmodo's Best Books of 2013
An Amazon Best Book of the Month, Nonfiction: Editors' Pick, July 2013

2014 Nautilus Award Silver Winner

"A lyrical, far-reaching book. Part elegy, part call-to-arms, The End of Night feels like an essential addition to the literature of nature." -- Boston Globe

"A moving, poetic, immersive, multifaceted, and thought-provoking study... Terrific." -- Publishers Weekly

"[Bogard] offers delightful insights from experts on the activities of nature during the night.... Bogard will leave readers in awe of darkness and in admiration of his book." -- Library Journal (starred review)

"It's impossible to read it without feeling the impulse to set out for the spaces beyond the city limits and spread out a blanket under the stars." -- Columbus Dispatch

"Absorbing... The End of Night delivers a forceful...critique of our overexposed world." -- Wall Street Journal

"Appealing.... An engaging blend of personal story, hard science and a bit of history." -- Kirkus Reviews

"An enthralling reminder of the power and pleasures of the dark." -- The Bookseller

"Introducing us to the pitch-black island of Sark, and groups such as Civil Twilight (designer of streetlights that shut off under moonlight) and Starlight Reserves (which considers freedom from light pollution a basic right), Bogard makes a solid case for hitting the national dimmer switch." -- Mother Jones

"A paean to a type of deep darkness most Americans have lost." -- Wilson Quarterly

"In this artful blend of environmental and cultural history, Bogard manages to make a book about light pollution pure reading pleasure.... The thoughtfulness with which Bogard considers such broadly diverse issues as the impact of working the night shift and the persecution of bats, quintessential creatures of the night, is inspiring.... Smart, surprising, and thoroughly enjoyable." -- Colleen Mondor, Booklist

"A hymn to vanished darkness. A literary journey. This is a rich book. As you read it, you too will want to reclaim the night and perhaps rediscover the heavens of the Enlightenment." -- Nature

"The most precious things in the modern world are probably silence, solitude, and darkness--and of these three rarities, true darkness may be the rarest of all. Many thanks to Paul Bogard for searching out the dark spots and reminding us to celebrate them!"--Bill McKibben, author of The End of Nature


"Darkness is among the many things we have lost gradually, without mourning. Paul Bogard offers a brilliantly illuminating history and a badly needed reminder that we have been blind to the death of night."--Bill Streever, author of Cold


"This is an important and beautifully narrated journey into our endangered inheritance: the sleep-silvery dark of night."--David George Haskell, Professor of Biology at The University of the South, author of The Forest Unseen: A Year's Watch In Nature

"Moving.... Peppered with illuminating insights.... A fascinating tale that combines history, science, sociology and the natural wonder of the night sky...." -- Nature Conservancy

"Many of the words one might use to praise this book-lucid, illuminating, brilliant-are, ironically, metaphors drawn from light. Paul Bogard deploys his brilliance to seek out and celebrate the primordial darkness that surrounds our lit-up bubble. He shows how much we lose by living cooped up inside this perpetual glare, cut off from the beauty and mystery of the cosmos, lulled into thinking we are masters of the universe rather than members of the web of life. And he shows how we might reconnect to that original world."--Scott Russell Sanders, author of Earth Works and A Conservationist Manifesto

"Bogard's exploration of what electrical illumination is doing to humans--biologically, culturally, and neurologically--is fascinating from cover to cover." -- Gizmodo

"This intriguing book about darkness, light, cities, the starry sky, night, and migrations of birds is a masterwork about the beauties and the challenges of reclaiming naturally dark nights." -- Spirituality & Practice

"It's impossible not to read this thorough and engaging survey of the subject and not be convinced [that light pollution matters]." -- Evening Standard

"A soon-to-be-classic on the treasure of darkness and the poetry of our night sky. It's a manifesto on par with the greats, and is to the issue of light pollution what Silent Spring was to the modern ecology movement!" -- AstroGuyz

"In the way of all truly interesting writing, The End of Night defies categorization--it's part environmental history, part social history, part literary history, and part travelogue... Throughout, Bogard's passion for poetry and literature shine through, as does his appreciation for "the necessity of the unknown", the wonder that real nights give us, and the mystery of darkness." -- Scope Magazine

"Forget Brian Cox -- Paul Bogard is the kind of guy I'd want to go star-gazing with." -- Telegraph (UK)

"To seek to let back in a little of the lost starlight and allow more of nature's shadow to reassert its balm seem to me both modest and wholesome aims, and Bogard's book does much to make a case for them." -- The Guardian

"Bogard is at his best when he describes how wonder can make us more empathetic: the fact that the biggest thing we will see in our life is a star light-years away ought to create a sense of humility. The End of Night ... should be read, and its ardour is impressive." -- The Scotsman

"Bogard's book reminds us of what we are losing." -- Las Vegas CityLife

"Paul Bogard's book shines in its ability to weave scientific fact with interesting anecdotes that are relatable to readers." -- Elephant Journal

"In inviting readers along to experience and fall in love with the night sky, Bogard is betting that beauty-the knowledge, appreciation, and love of it-will gradually prompt us to reclaim the darkness of night as it was meant to be. His book is a reminder that we need to take the environment and beauty entrusted to us seriously, with reverence and love." -- Patheos
Book Videos
or
Not Currently Available for Direct Purchase