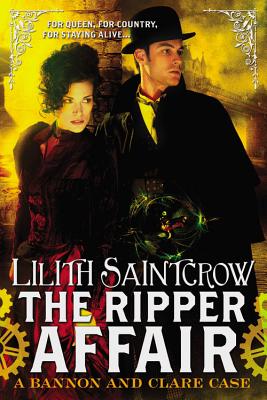 The Ripper Affair (Bannon and Clare #3) (Paperback)
Orbit, 9780316183727, 416pp.
Publication Date: August 19, 2014
Other Editions of This Title:
Digital Audiobook (8/18/2014)
Pre-Recorded Audio Player (8/1/2014)
* Individual store prices may vary.
Description
The enthralling conclusion to the Bannon and Clare trilogy from New York Times bestselling author, Lilith Saintcrow.
Sorcery. Treason. Madness. And, of course, murder most foul...

A shattering accident places Archibald Clare, mentath in the service of Britannia, in the care of Emma Bannon, sorceress Prime. Clare needs a measure of calm to repair his faculties of Logic and Reason. Without them, he is not his best. At all.

Unfortunately, calm and rest will not be found. There is a killer hiding in the sorcerous steam-hells of Londinium, murdering poor women of a certain reputation. A handful of frails murdered on cold autumn nights would make no difference...but the killings echo in the highest circles, and threaten to bring the Empire down in smoking ruins.

Once more Emma Bannon is pressed into service; once more Archibald Clare is determined to aid her. The secrets between these two old friends may give an ambitious sorcerer the means to bring down the Crown. And there is still no way to reliably find a hansom when one needs it most.

The game is afoot...
Bannon and Clare
The Iron Wyrm Affair
The Red Plague Affair
The Ripper Affair
The Damnation Affair (e-only)
For more from Lilith Saintcrow, check out:
Gallow and Ragged
Trailer Park Fae

Dante Valentine Novels
Working for the Devil
Dead Man Rising
Devil's Right Hand
Saint City Sinners
To Hell and Back

Dante Valentine (omnibus)
Jill Kismet Novels
Night Shift
Hunter's Prayer
Redemption Alley
Flesh Circus
Heaven's Spite
Angel Town

Jill Kismet (omnibus)

A Romance of Arquitaine Novels
The Hedgewitch Queen
The Bandit King
Blood Call (coming August 2015)
About the Author
Lilith Saintcrow was born in New Mexico, bounced around the world as an Air Force brat, and fell in love with writing when she was ten years old. She currently lives in Vancouver, WA.

Praise For The Ripper Affair (Bannon and Clare #3)…
"Promises excitement and chills and delivers the goods."—Booklist on The Ripper Affair

" Saintcrow scores a hit with this terrific Steampunk series that rockets through a Britain-that-wasn't with magic and industrial mayhem with a firm nod to Holmes. Genius and a rocking good time."—Patricia Briggs on The Iron Wyrm Affair

"Saintcrow melds a complex magic system with a subtle but effective steampunk society, adds fully-fleshed and complicated characters, and delivers a clever and highly engaging mystery that kept me turning pages, fascinated to the very end."—Laura Anne Gilman on The Iron Wyrm Affair

"Innovative world building, powerful steam punk, master storyteller at her best. Don't miss this one....She's fabulous. "—Christine Feehan on The Iron Wyrm Affair

"Lilith Saintcrow spins a world of deadly magic, grand adventure, and fast-paced intrigue through the clattering streets of a maze-like mechanized Londonium. The Iron Wyrm Affair is a fantastic mix of action, steam, and mystery dredged in dark magic with a hint of romance. Loved it! Do not miss this wonderful addition to the steampunk genre."—Devon Monk on The Iron Wyrm Affair

"Lilith Saintcrow's foray into steampunk plunges the reader into a Victorian England rife with magic and menace, where clockwork horses pace the cobbled streets, dragons rule the ironworks, and it will take a sorceress' discipline and a logician's powers of deduction to unravel a bloody conspiracy."—Jacqueline Carey on The Iron Wyrm Affair