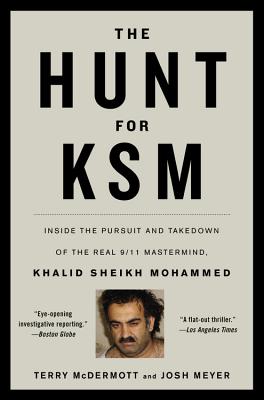 The Hunt for KSM
Inside the Pursuit and Takedown of the Real 9/11 Mastermind, Khalid Sheikh Mohammed
Paperback

* Individual store prices may vary.
Other Editions of This Title:
Digital Audiobook (3/25/2012)
Hardcover (3/26/2012)
Description
The definitive account of the decade-long pursuit and capture of Khalid Sheikh Mohammed, the terrorist mastermind of 9/11.

Only minutes after United 175 plowed into the World Trade Center's South Tower, people in positions of power correctly suspected who was behind the assault: Osama bin Laden and Al Qaeda. But it would be 18 months after September 11 before investigators would capture the actual mastermind of the attacks, the man behind bin Laden himself.

That monster is the man who got his hands dirty while Osama fled; the man who was responsible for setting up Al Qaeda's global networks, who personally identified and trained its terrorists, and who personally flew bomb parts on commercial airlines to test their invisibility. That man withstood waterboarding and years of other intense interrogations, not only denying Osama's whereabouts but making a literal game of the proceedings, after leading his pursuers across the globe and back. That man is Khalid Sheikh Mohammed, and he is still, to this day, the most significant Al Qaeda terrorist in captivity.

In The Hunt for KSM, Terry McDermott and Josh Meyer go deep inside the US government's dogged but flawed pursuit of this elusive and dangerous man. One pair of agents chased him through countless false leads and narrow escapes for five years before 9/11. And now, drawing on a decade of investigative reporting and unprecedented access to hundreds of key sources, many of whom have never spoken publicly -- as well as jihadis and members of KSM's family and support network -- this is a heart-pounding trip inside the dangerous, classified world of counterterrorism and espionage.
Praise For The Hunt for KSM: Inside the Pursuit and Takedown of the Real 9/11 Mastermind, Khalid Sheikh Mohammed…
"The prose...accurately reflects McDermott's and Meyer's top-notch journalistic skills, dedication to research, and laser-sharp attention to detail, and the authors impressively knit together a seemingly endless supply of narrative strands and character aliases....THE HUNT FOR KSM is not only eye-opening investigative reporting, but also a concrete indictment of the continued bureaucratic boondoggle that is the War on Terror."
—
Eric Liebetrau
,
Boston Globe"
Drawing on unprecedented access to hundreds of sources, and investigative reporting across different continents, THE HUNT FOR KSM provides a unique insight into the worlds of counter terrorism and espionage."—
The Huffington Post
"The best single-volume resource on KSM."
—
Graeme Wood
,
The Daily
"Superlative storytelling and crackling reportage define a pulse-pounding narrative tracing the capture of Khalid Sheikh Mohammed....A surprising, sobering look at one of the deadliest terror networks in history, and the American spy agencies charged with bringing it down."
—
Kirkus
"A fact-filled inside account, in the voices of those on the job, of the failed decade-long American effort to find KSM before he could strike again. But there is a most important underlying message in this book -- that the American intelligence community remains caught up in bureaucratic warfare and remains today incapable of working together...of sharing insights and information...even when all involved share the same goal. This, ultimately, is an account of an American tragedy."
—
Seymour M. Hersh of The New Yorker
,
-
"This chilling inside account of America's cat-and-mouse pursuit of perhaps the world's most heinous terrorist reads like a real-life episode of the show '24.' But now two intrepid reporters tell the story, unmasking not just a terrorist of historic dimensions, but also a country failing to adequately grapple with the challenge."
—
Jane Mayer, author of The Dark Side
,
-
"A tick tock thriller about catching 9/11's mastermind. In exquisite detail it tells a story of incompetence and failure, and ultimately brilliance and redemption. It shows how we failed, and how we finally succeeded after relearning the nuts and bolts of classic espionage."—
Robert Baer, bestselling author of See No Evil and Sleeping with the Devil
,
-
"Completely authoritative...a deeply reported page-turner.."
—
Peter Bergen, author of The Longest War
,
-
"Animportant book, detailing one of most secretive and fractured investigations of our time. Fabulous reporting and great storytelling make it one of the best thrillers I've ever read. That it is all true and such a gripping story just makes the accomplishment of McDermott and Meyer even more astounding. I couldn't put this one down and neither will you."—
Michael Connelly
,
-
Back Bay Books, 9780316186582, 384pp.
Publication Date: April 16, 2013
About the Author
Josh Meyer is the former chief terrorism reporter for the Los Angeles Times and has reported on international terrorism for more than a decade­. His "Inside Al Qaeda" series was nominated for a Pulitzer Prize and he has twice been part of teams that have won the Pulitzer Prize for security reporting. Meyer is also a screenwriter and television producer, who co-created (with Michael Connelly), wrote and produced the network TV crime drama Level 9. He currently is on the faculty of the Medill School of Journalism, where he is director of education and outreach for the school's groundbreaking National Security Journalism Initiative based in Washington, D.C.

Terry McDermott is the author of Perfect Soldiers (HarperCollins, 2005), and 101 Theory Drive (Pantheon, 2010). His work has appeared in the New Yorker, the Wilson Quarterly, Columbia Journalism Review, the Los Angeles Times Magazine, and Pacific Magazine. McDermott worked at eight newspapers for more than thirty years, most recently for ten years at the Los Angeles Times, where he was a national correspondent.
or
Not Currently Available for Direct Purchase