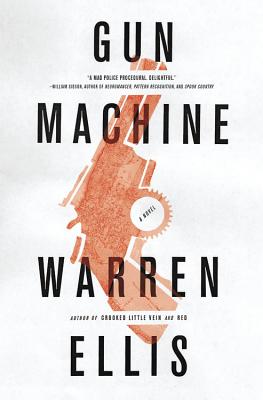 Gun Machine
Hardcover

* Individual store prices may vary.
Other Editions of This Title:
Digital Audiobook (12/31/2012)
January 2013 Indie Next List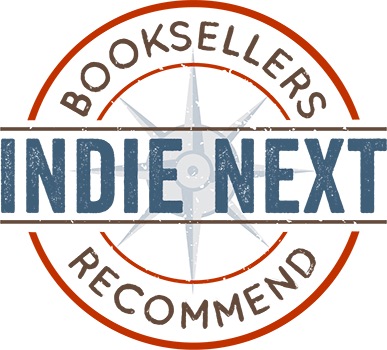 "Ellis brings visual storytelling skills honed by his comic and graphic novel work, his obsessions with present and future technology, and his flare for fast-paced dialog to a novel that is part modern police procedural, part CSI drama, part serial killer monologue, and part techno thriller. What starts out as a really bad day for Detective John Tallow as he sees his partner shot dead in front of him suddenly becomes a potentially career-ending day with his discovery of an apartment full of guns that lead back to a host of unsolved murders. The plot moves forward at a relentless pace. I hope that Ellis continues to explore this fascinating cast of characters in future books."
— Scott Stearns, The Book Nook, Ludlow, VT
View the List
Description
Warren Ellis reimagines New York City as a puzzle with the most dangerous pieces of all: guns.

After a shootout claims the life of his partner in a condemned tenement building on Pearl Street, Detective John Tallow unwittingly stumbles across an apartment stacked high with guns. When examined, each weapon leads to a different, previously unsolved murder. Someone has been killing people for twenty years or more and storing the weapons together for some inexplicable purpose.

Confronted with the sudden emergence of hundreds of unsolved homicides, Tallow soon discovers that he's walked into a veritable deal with the devil. An unholy bargain that has made possible the rise of some of Manhattan's most prominent captains of industry. A hunter who performs his deadly acts as a sacrifice to the old gods of Manhattan, who may, quite simply, be the most prolific murderer in New York City's history.

Warren Ellis's body of work has been championed by Wired for its "merciless action" and "incorruptible bravery," and steadily amassed legions of diehard fans. His newest novel builds on his accomplishments like never before, announcing Ellis as one of today's most daring thriller writers. This is twenty-first century suspense writ large. This is Gun Machine.
Praise For Gun Machine…
"Wonderful...a blast...barbs that should have the scriptwriters for Bones scribbling on napkins. More fun than I've had out of a crime novel in a long time."
—
Michael Robbins, Chicago Tribune
"Ellis tackles the police procedural, although it's bloodier and more intriguing than any episode of
Law & Order
or
CSI
, and arms it with gallows humor, high-tension action scenes and an unlikely hero."—
Brian Truitt, USA Today
"A pleasingly quirky crime thriller...Tallow is oddly endearing, so single-minded you can't help rooting for him...There is nothing comic-bookish about [Ellis's] writing, which races along in crisp hard-boiled fashion."
—
Charles McGrath, New York Times
"GUN MACHINE has a bunch of Ellis' signature gestures: characters with resonant names or no names at all, nightmarish near-future (and recent-past) gizmos, constant and gleeful vulgarity...The brutal cat-and-mouse game between Tallow and the killer suggests that the chaos of human malice can gum up even law enforcement's most elegant systems. More deeply, though, GUN MACHINE is about the ways the grimmer parts of America's history can ooze into the present day, and in particular about the country's deep, horrible connection to firearms."
—
Douglas Wolk, Los Angeles Times
"GUN MACHINE gives the fast paced, visceral detective story a sublime new treatment. Here is a book anyone interested in the Big Apple should read--it is not only a hunt for an unforgettable killer, but a quest to exhume the many New Yorks that have evaded our eye."
—
Darren Richard Carlaw, New York Journal of Books
"A mad police procedural just north of the border of dark fantasy. Delightful."
—
William Gibson, author of Neuromancer, Pattern Recognition and Spook Country
"The dialogue is rapid and witty, the action moves along, the city and its inhabitants are wonderfully violent, and the cat-and-mouse plot is satisfyingly solid...Ellis, an Englishman, completely nails New York and New Yorkers."
—
C.A. Bridges, Daytona Beach News-Journal
"Riveting. Inspired. Ellis does a fine job of adding a highly unusual spin on the genre. Ellis, a U.K. native, writes about New York and New Yorkers with no missteps, and while his vision of the city is that of an ultra-violent hellhole where vicious murders are commonplace, he peppers the narrative with humor and vivid descriptions of violence that are simultaneously beautiful and terrifying.
Gun Machine
propels the multitalented Ellis, already a household name in the world of comics, into the ranks of the best crime writers in the business."—
Jason Starr, Publishers Weekly (starred review)
"Warren Ellis has a terrific way with words...vivid [with] fully fleshed characters...a seriously good writer with a seriously wicked imagination."
—
Marilyn Stasio, New York Times Book Review
"From the wrenching violence of its first pages to its bone-jarring conclusion,
Gun Machine
never lets go of the reader and never flags in its relentless pace. In the course of 300 tightly wound pages, Ellis unloads a full clip of ideas, black humor, character, and copper-sheathed action scenes. Every sentence is a bullseye."—
Joe Hill, New York Times bestselling author of A Heart-Shaped Box and Horns
"
Gun Machine
is packing heat: wonderfully demented misfits, killer dialogue, a helluva story. Warren Ellis is a twisted genius and this is his grittiest, sexiest, and best work by far."—
Lauren Beukes, Arthur C. Clark award-winning author of Zoo City and Moxyland
"Hellish fun."
—
Ian Rankin, author of Standing in Another Man's Grave
"Ellis has a knack for taking familiar pop culture shapes and making them new and remarkable. He's also funny, inventive, and into the bargain he can sneak pathos on you when you aren't looking. Oh, and he does great character and dialogue.
"GUN MACHINE is very, very Ellis. A detective hunting a serial killer in Manhattan could be totally run of the mill, but it isn't. In that respect the book reminds me of Josh Bazell's brilliant
Beat The Reaper
or one of Carl Hiaasen's off-kilter thrillers: it's acutely witty, a bit haunting, and huge fun."—
Nick Harkaway, author of The Gone-Away World and Angelmaker
Gun Machine
is built around a trio of intoxicating weirdoes who twist the mold of the familiar detective-and-forensic-specialist combo. Strong interplay between historic Manahatta (think Native American) and technology's future role in policing creates a big-picture backdrop for catch-the-crazy-killer thrills. Lisa Black fans and those who love quirky characters in a high-stakes police procedural will find plenty to like here."—
Christine Tran, Booklist
"
Gun Machine
is a novel that never stops to draw breath. It's a monster of a book, bowel-looseningly scary in places, darkly uproarious in others, and remorseless as the killer who hunts in its pages...[GUN MACHINE] is particularly good, even by the high standards of a Warren Ellis tale."—
Cory Doctorow, BoingBoing.net
"GUN MACHINE redraws the crime map of Manhattan; Ellis's bizarre, febrile imagination and mordant wit makes a serial killer thriller for a new century."
—
Charles Stross, author of Rule 34, Accelerando and Singularity Sky
"Underneath the pyrotechnic prose lies a perfectly paced mystery thriller. Ellis gets it so right."
—
Mike Carey, author of The Devil You Know
"Warren Ellis is one of the greatest writers of my generation not to mention my personal favorite. GUN MACHINE is a perfect example of why. Fiercely entertaining, compellingly crafted, and filled with big ideas and small that make the writer in me growl: damn, I wish I would've thought of that."
—
Brian Michael Bendis, writer of The Avengers, Ultimate Spider-Man, and Ultimate X-Men
"An inventive police procedural...Ellis' prose couldn't be more clean: His hero is a deep well of noirish bons mots, and sequences featuring police radio reports of humanity's daily degradations give the novel a grim but surprisingly poetic lift."
—
Kirkus Reviews
"Warren Ellis's work displays a knack for mad hilarity, merciless action, dark cynicism and incorruptible bravery."
—
Wired
Mulholland Books, 9780316187404, 320pp.
Publication Date: January 1, 2013
About the Author
Warren Ellis is the award-winning creator of graphic novels such as Fell, Ministry of Space, Planetary, and Transmetropolitan and the author of the novel Crooked Little Vein. His graphic novel RED was adapted into the #1 hit film of the same name starring Bruce Willis and Helen Mirren. He lives in London.
or
Not Currently Available for Direct Purchase