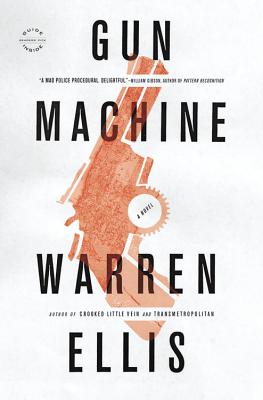 Gun Machine (Paperback)
Mulholland Books, 9780316187411, 320pp.
Publication Date: January 14, 2014
* Individual store prices may vary.
Description
The bestselling thriller from "a seriously good writer with a seriously wicked imagination" (New York Times Book Review).

After a shootout claims the life of his partner in a condemned tenement building on Pearl Street, Detective John Tallow unwittingly stumbles across an apartment stacked high with guns. When examined, each weapon leads to a different, previously unsolved murder.

Confronted with the sudden emergence of hundreds of unsolved homicides, Tallow discovers that he's walked into a veritable deal with the devil. An unholy bargain that has made possible the rise of some of Manhattan's most prominent captains of industry. A hunter who performs his deadly acts as a sacrifice to the old gods of Manhattan and who may, quite simply, be the most prolific murderer in New York City's history.
About the Author
Warren Ellis is the award-winning creator of graphic novels such as Fell, Ministry of Space, Planetary, and Transmetropolitan and the author of the novel Crooked Little Vein. His graphic novel RED was adapted into the #1 hit film of the same name starring Bruce Willis and Helen Mirren. He lives in London.
Praise For Gun Machine…
"Warren Ellis has a terrific way with words...vivid [with] fully fleshed characters...a seriously good writer with a seriously wicked imagination."—Marilyn Stasio, New York Times Book Review

"GUN MACHINE has a bunch of Ellis' signature gestures: characters with resonant names or no names at all, nightmarish near-future (and recent-past) gizmos, constant and gleeful vulgarity...The brutal cat-and-mouse game between Tallow and the killer suggests that the chaos of human malice can gum up even law enforcement's most elegant systems. More deeply, though, GUN MACHINE is about the ways the grimmer parts of America's history can ooze into the present day, and in particular about the country's deep, horrible connection to firearms."—Douglas Wolk, Los Angeles Times

"A pleasingly quirky crime thriller...Tallow is oddly endearing, so single-minded you can't help rooting for him...There is nothing comic-bookish about [Ellis's] writing, which races along in crisp hard-boiled fashion."—Cip McGrath, New York Times

"Wonderful...a blast...barbs that should have the scriptwriters for Bones scribbling on napkins. More fun than I've had out of a crime novel in a long time."—Michael Robbins, Chicago Tribune

"Bloodier and more intriguing than any episode of Law & Order or CSI...gallows humor and high-tension action."—Brian Truitt, USA Today

"From the wrenching violence of its first pages to its bone-jarring conclusion, Gun Machine never lets go of the reader and never flags in its relentless pace. In the course of 300 tightly wound pages, Ellis unloads a full clip of ideas, black humor, character, and copper-sheathed action scenes. Every sentence is a bullseye."—Joe Hill, author of A Heart-Shaped Box and Horns

"Gun Machine is packing heat: wonderfully demented misfits, killer dialogue, a helluva story. Warren Ellis is a twisted genius and this is his grittiest, sexiest, and best work by far."
—Lauren Beukes, Arthur C. Clarke Award-winning author of Zoo City and Moxyland

"GUN MACHINE redraws the crime map of Manhattan; Ellis's bizarre, febrile imagination and mordant wit makes a serial killer thriller for a new century."—Charles Stross, author of Accelerando and Singularity Sky

"Underneath the pyrotechnic prose lies a perfectly paced mystery thriller. Ellis gets it so right."—Mike Carey, author of The Devil You Know