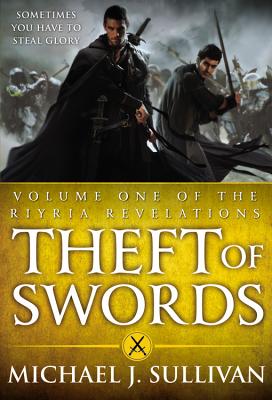 Theft of Swords (Paperback)
Orbit, 9780316187749, 691pp.
Publication Date: November 23, 2011
Description
Royce Melborn, a skilled thief, and his mercenary partner, Hadrian Blackwater, make a profitable living carrying out dangerous assignments for conspiring nobles-until they are hired to pilfer a famed sword. What appears to be just a simple job finds them framed for the murder of the king and trapped in a conspiracy that uncovers a plot far greater than the mere overthrow of a tiny kingdom. Can a self-serving thief and an idealistic swordsman survive long enough to unravel the first part of an ancient mystery that has toppled kings and destroyed empires? And so begins the first tale of treachery and adventure, sword fighting and magic, myth and legend. When author Michael J. Sullivan self-published the first books of his Riyria Revelations, they rapidly became ebook bestsellers. Now, Orbit is pleased to present the complete series for the first time in bookstores everywhere. Theft of Swords was originally published as: The Crown Conspiracy and Avempartha. BOOKS IN THE RIYRIA REVELATIONS
Theft of Swords (The Crown Conspiracy & Avempartha)
Rise of Empire (Nyphron Rising & The Emerald Storm)
Heir of Novron (Wintertide & Percepliquis)
About the Author
Born in Detroit, Michigan, Michael J. Sullivan has lived in Vermont, North Carolina, and Virginia. He worked as a commercial artist and illustrator, founding his own advertising agency in 1996, which he closed in 2005 to pursue writing full-time. The Crown Conspiracy is his first published work. He currently resides in Fairfax, Virginia with his wife and three children. The author's website can be found at www.riyria.com and on twitter @author_sullivan.
Praise For Theft of Swords…
Praise for the Riyria Revelations:

"Mr. Sullivan continues to impress. In Royce and Hadrian he has created some of the best characters the genre has seen in some time, and in Avempartha he shows that he knows what to do with them. These books should be in every bookstore and I really hope that they are someday." --- Speculative Fiction Junkie

"A whirlwind of twists, earth-shattering surprises and deadly betrayal." --- Literary Magic

"Hair-raising escapes, flashy sword fights, and faithful friendship complete the formula for good old-fashioned escapist fun."

"This epic fantasy showcases the arrival of a master storyteller."
Advertisement