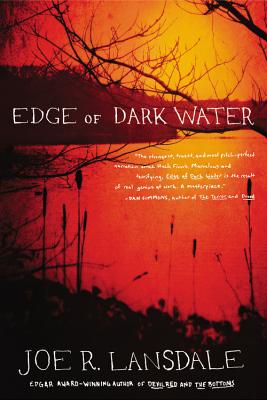 Edge of Dark Water (Paperback)
Mulholland Books, 9780316188425, 320pp.
Publication Date: February 12, 2013
Other Editions of This Title:
Digital Audiobook (3/26/2012)
Paperback, Large Print (1/25/2013)
Hardcover (3/27/2012)
Compact Disc (3/27/2012)
Paperback (3/1/2012)
Hardcover (3/1/2012)
Pre-Recorded Audio Player (2/24/2012)
* Individual store prices may vary.
Description
An Edgar Award winner blends Mark Twain's humor and Stephen King's suspense in this darkly compelling novel of three friends determined to take their friend's ashes to Hollywood.
May Lynn was once a pretty girl who dreamed of becoming a Hollywood star. Now she's dead, her body dredged up from the Sabine River.

Sue Ellen, May Lynn's strong-willed teenage friend, sets out to dig up May Lynn's body, burn it to ash, and take those ashes to Hollywood to spread around. If May Lynn can't become a star, then at least her ashes will end up in the land of her dreams.

Along with her friends Terry and Jinx and her alcoholic mother, Sue Ellen steals a raft and heads downriver to carry May Lynn's remains to Hollywood.

Only problem is, Sue Ellen has some stolen money that her enemies will do anything to get back. And what looks like a prime opportunity to escape from a worthless life will instead lead to disastrous consequences. In the end, Sue Ellen will learn a harsh lesson on just how hard growing up can really be.
About the Author
Joe R. Lansdale is the author of more than a dozen novels, including Sunset and Sawdust, Lost Echoes, and Leather Maiden. He has received the British Fantasy Award, the American Mystery Award, the Edgar Award, the Grinzane Cavour Prize for Literature, and eight Bram Stoker Awards. He lives with his family in Nacogdoches, Texas.

Praise For Edge of Dark Water…
"The strongest, truest, and most pitch-perfect narration since Huck Finn's. Marvelous and terrifying, EDGE OF DARK WATER is the result of real genius at work. A masterpiece."—Dan Simmons, author of The Terror and Drood

"EDGE OF DARK WATER describes a trip downriver that is one-half Huck Finn, one-half Deliverance, and entirely Joe Lansdale. If you aren't familiar with the work of this true American original, and master of hillbilly noir, climb in the boat and hang on for dear life: the water is rough."—Joe Hill, author of the New York Times bestseller Horns and A Heart-Shaped Box

"Joe Lansdale has long been one of our finest and most difficult to classify writers. You can call his writing supernatural, horror, crime, or plain Southern, as long as you remember to call it great. Always a generous storyteller, in EDGE OF DARK WATER he offers a beautifully spun tale of life in the sticks, friendship and mortality, and tells it with the wit, humor and pure-dee power we've come to expect of him."—Daniel Woodrell, author of Winter's Bone

"Joe Lansdale always transports me. In EDGE OF DARK WATER, he takes me to the mysterious brooding landscape of Twain and Faulkner, with a compelling twist that is all Lansdale."—David Morrell, New York Times bestselling author of First Blood and Creepers

"Joe R. Lansdale has a folklorist's eye for telling detail and a front-porch raconteur's sense of pace."—The New York Times Book Review

"Scenes that stand your hair on end while you fall out of your chair laughing."—Chicago Sun-Times, on Leather Maiden