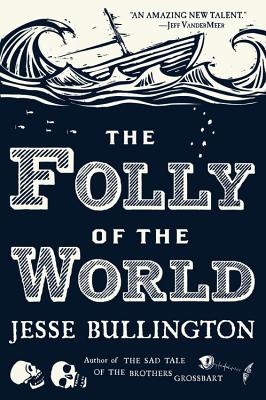 The Folly of the World
Paperback

* Individual store prices may vary.
Description
On a stormy night in 1421, the North Sea delivers a devastating blow to Holland: the Saint Elizabeth Flood, a deluge of biblical proportions that drowns hundreds of towns, thousands of people, and forever alters the geography of the Low Countries. Where the factions of the noble Hooks and the merchant Cods waged a literal class war but weeks before, there is now only a nigh-endless expanse of grey water, a desolate inland sea with moldering church spires jutting up like sunken tombstones. For a land already beleaguered by generations of civil war, a worse disaster could scarce be imagined.

Yet even disaster can be profitable, for the right sort of individual, and into this flooded realm sail three conspirators: a deranged thug at the edge of madness, a ruthless conman on the cusp of fortune, and a half-feral girl balanced between them.

With The Folly of the World, Jesse Bullington has woven an extraordinary new tale of the depraved and the desperate.
Praise For The Folly of the World…
"Smart, funny, and full of wild exuberance."—Lauren Beukes

"Every page is saturated with wickedness and mischief. Bullington's fans will be happy to see him bring his trademark dark humor, gritty detail, and loopy characters into a new gruesome landscape."—Publishers Weekly

"Delightfully grim"—Interzone (UK)

"This is both a cleverly entertaining story and a fascinating exploration of the human psyche."—britishfantasysociety.co.uk
Orbit, 9780316190350, 528pp.
Publication Date: December 18, 2012
About the Author
Jesse Bullington spent the bulk of his formative years in rural Pennsylvania, the Netherlands, and Tallahassee, Florida. He is a folklore and outdoor enthusiast who holds a bachelor's degree in History and English Literature from Florida State University. He currently resides in Colorado, and his blog, as well as fan art, news and exclusive content can be found at www.jessebullington.com.