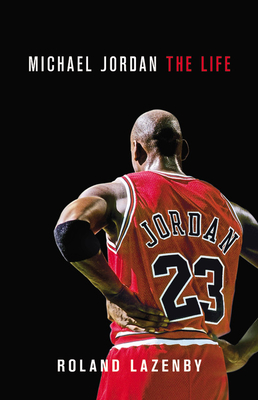 Michael Jordan
The Life
Hardcover

* Individual store prices may vary.
Other Editions of This Title:
Digital Audiobook (5/5/2014)
Paperback (5/19/2015)
CD-Audio (5/27/2014)
Compact Disc (5/6/2014)
Description
The definitive biography of a legendary athlete.

The Shrug. The Shot. The Flu Game. Michael Jordan is responsible for sublime moments so ingrained in sports history that they have their own names. When most people think of him, they think of his beautiful shots with the game on the line, his body totally in sync with the ball -- hitting nothing but net.

But for all his greatness, this scion of a complex family from North Carolina's Coastal Plain has a darker side: he's a ruthless competitor and a lover of high stakes. There's never been a biography that encompassed the dual nature of his character and looked so deeply at Jordan on and off the court -- until now.

Basketball journalist Roland Lazenby spent almost thirty years covering Michael Jordan's career in college and the pros. He witnessed Jordan's growth from a skinny rookie to the instantly recognizable global ambassador for basketball whose business savvy and success have millions of kids still wanting to be just like Mike. Yet Lazenby also witnessed the Michael Jordan whose drive and appetite are more fearsome and more insatiable than any of his fans could begin to know.

Michael Jordan: The Life explores both sides of his personality to reveal the fullest, most compelling story of the man who is Michael Jordan. Lazenby draws on his personal relationships with Jordan's coaches; countless interviews with Jordan's friends, teammates, and family members; and interviews with Jordan himself to provide the first truly definitive study of Michael Jordan: the player, the icon, and the man.
Praise For Michael Jordan: The Life…
One of Chicago Public Library's Best Books of 2014

A Goodreads Choice Award Finalist: History and Biography

"In his thoughtful, extraordinarily well-­researched biography "Michael Jordan: The Life," Roland Lazenby... gives us the life and much more.... The exhaustive narrative of Jordan's basketball career is written with appropriate awe. But what makes this portrayal especially worthwhile is everything else."—Mike Greenberg, New York Times Book Review

"An utterly definitive biography.... The most comprehensive attempt yet made to explain the factors that have gone into producing the most famous basketball player and marketing phenom in the history of world sports....I don't know how it would be possible to write a more complete biography of him."—The Chicago Tribune

"When a world-class biographer writes about a world-class athlete, you have a biography for the ages. This is the ultimate study of Michael Jordan, and I know you will be as captivated as I was."—Pat Williams, Orlando Magic senior vice president, author of Coach Wooden's Greatest Secret

"Revelatory.... A fascinating examination into the lonely, prideful man behind the glimmering icon."—Publishers Weekly

"Roland Lazenby's new biography of Michael Jordan is as breathtaking as a dunk by 'His Airness.' ... A richly detailed, thoroughly researched book.... Lazenby expertly sifts through the myths to produce a definitive portrait of Michael Jordan."—Bob D'Angelo, Tampa Tribune

"Right from its early pages it's clear that Roland Lazenby's biography of Michael Jordan is in full-press mode to be the best volume ever written on perhaps basketball's greatest player.... Lazenby's a born researcher and some serious legwork went into gathering all of the quotes and facts here, which add up to a kind of Jordan-centric encyclopedia."—Colin Fleming, The Boston Globe

"Lazenby's thoroughly enjoyable biography is an impressive portrait of a man consumed by his competitive ambitions. It is also by far the most complete book on Michael Jordan to date.... Essential reading for all sports fans and particularly for those interested in American cultural history and popular culture."—Library Journal (starred review)

"A lot has been written about arguably the greatest basketball player of all time, Michael Jordan, but Roland Lazenby's Michael Jordan: The Life is easily the definitive version. The journalist has covered Jordan's career for nearly thirty years and his knowledge of the game and of this miraculous player shows in what is one of the best sports biographies in years."—Parade

"What makes this portrayal especially worthwhile is the long trail Lazenby follows before the awesome career even begins."—New York Times Book Review's "Editor's Choice"

"It's not every day that I'm blown away by a book about a sports figure. But MICHAEL JORDAN: THE LIFE, by Roland Lazenby, ranks up there with the very best: The Boys of Summer by Roger Kahn, Friday Night Lights by Buzz Bissinger, and Joe DiMaggio by Richard Ben Cramer. The depth of reporting, his frequent ascent into poetry, and his intelligent analysis of the life of this complicated, fascinating American icon deserve Pulitzer Prize consideration. For the first time I understand what makes Michael Jordan tick. I was captivated, fascinated and beguiled from beginning to end."—Peter Golenbock, New York Times-bestselling author of George and In the Country of Brooklyn

"Lazenby looks beyond the on-court exploits of a sports and cultural icon to find the complicated, and often contradictory, man behind the myth."—ESPN Holiday Gift Guide

"Studded with insights."—Kirkus Reviews

"Resplendent... A definitive, multidimensional portrait of a man and a legend, and a notable contribution to sports literature."—Miriam Tuliao, BookReporter

"Lazenby's book is impressive in its research. There are details bound to surprise even the most die-hard Bulls fan."—Mike McGraw, The Chicago Daily Herald

"The definitive portrait.... The dream of the non-fiction writer is to condemn future books on the same subject to irrelevance. It's possible Lazenby has achieved this lofty goal: nothing more needs to be written about Jordan."—Adrian Lee, Macleans

"A comprehensive look at the life and times of the man and the legend.... A great work for any sports enthusiast and B-ball fan to read about one of the best that ever came to the game."—Brook Stephenson, Ebony

"The wonderfully researched and thoughtful story of the six-time NBA champion and Olympic gold medalist, Michael Jordan: The Life, lives up to its hype."—Jill Krasny, Esquire

"Lazenby is one of the best, most thoughtful and thorough people writing books on the NBA today, which makes all his books fascinating reads and great looks at the psychology of teams and great players. His stuff is must read."—Kurt Helin, NBC Sports' Pro Basketball Talk

Lazenby is "the Michael Jordan of writing about Michael Jordan."—MSNBC's The Cycle

"Lazenby's prose soars as dramatically and excitingly as does his subject. Jordan appeared to fly through the air; Lazenby makes time fly as readers immerse themselves in an extraordinarily competitive life. Does any biography deserve 700 pages? When you read Lazenby's Michael Jordan: The Life you'll be hard-pressed to answer anything but yes."—Michael Levin, New York Journal of Books

"MJ's life is a movie worth watching again, and Lazenby adds enough deleted scenes to add some oomph to the familiar story."—Booklist
Little, Brown and Company, 9780316194778, 720pp.
Publication Date: May 6, 2014
About the Author
Roland Lazenby is the author of the bestselling and definitive biographies Michael Jordan and Jerry West, among other books. He has spent the past three decades interviewing NBA players, coaches, staff members, and other figures while writing about the league. He lives in Salem, VA.