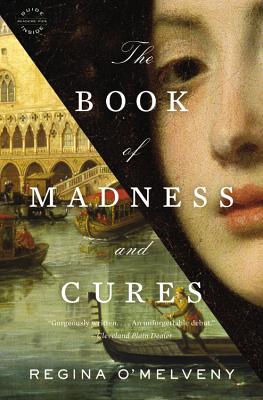 The Book of Madness and Cures
A Novel
Paperback

* Individual store prices may vary.
Other Editions of This Title:
Digital Audiobook (4/9/2012)
Compact Disc (4/1/2012)
Hardcover (4/1/2012)
Paperback (4/1/2012)
CD-Audio (4/10/2012)
Description
Dr. Gabriella Mondini, a strong-willed, young Venetian woman, has followed her father in the path of medicine. She possesses a singleminded passion for the art of physick, even though, in 1590, the male-dominated establishment is reluctant to accept a woman doctor. So when her father disappears on a mysterious journey, Gabriella's own status in the Venetian medical society is threatened. Her father has left clues -- beautiful, thoughtful, sometimes torrid, and often enigmatic letters from his travels as he researches his vast encyclopedia, The Book of Diseases.

After ten years of missing his kindness, insight, and guidance, Gabriella decides to set off on a quest to find him -- a daunting journey that will take her through great university cities, centers of medicine, and remote villages across Europe. Despite setbacks, wary strangers, and the menaces of the road, the young doctor bravely follows the clues to her lost father, all while taking notes on maladies and treating the ill to supplement her own work.

Gorgeous and brilliantly written, and filled with details about science, medicine, food, and madness, The Book of Madness and Cures is an unforgettable debut.
Praise For The Book of Madness and Cures: A Novel…
"Regina O'Melveny's debut novel,
The Book of Madness and Cures
, is a marvelous, inventive story of a singular courageous woman on a quest to find her missing father. Set in the Renaissance, it explores the wonders, and dangers, of Europe and Asia Minor and recreates a world--exotic and familiar, sensuous and beguiling--where a defiant woman, practicing the ancient healing arts, is believed to be contrary to the laws of God and Man."—
Kathleen Kent, author of The Traitor's Wife and The Heretic's Daughter
"....[A]n elegant portrait of a resolute woman who practices medicine in 16th-century Venice...The writing is superb, particularly when the author describes..exotic locales and ancient superstitions. The book will especially attract readers who enjoy female­ centered historical novels whose plots are not driven by romance."
—
Lucy Roehrig, Library Journal
"[Gabriella Mondini's] journey is conveyed with earthy and sensual brio [and] clearly well-researched evocations of time and place, and...poetical description....You will love this adventure."
—
Elle Magazine
"Poet O'Melveny's debut fiction is like a lyrical composite creature-part father/daughter epistolary novel, part aristocratic diary, part adventurer's travelogue, and part compendium of allegorical diseases...Readers will be delighted by O'Melveny's whimsical embellishments."
—
Publisher's Weekly
"[A] picaresque fiction debut...a provocative window into early medical pronouncements on everything from depression to claustrophobia..."
—
Jan Stuart, The Boston Globe
"O'Melveny's writing is smooth and evocative. Gabriella proves a likeable traveling companion, and her first-person narration keeps things moving along....Readers will find much to enjoy in this colorful, picaresque tale."
—
David Maine, Popmatters
"Gorgeously written, and filled with details about science and medicine, this is an unforgettable debut novel."
—
Tara Quinn, Cleveland Plain Dealer
"Infused with the sensuous places and metaphorical natural world that recur in [O'Melveny's] poetry..."
—
Anne Gray Fischer, Ploughshares
"Intriguing.... Every new chapter brings a new adventure and a new piece of the puzzle."
—
Claire Rivero, The Washington Independent Review of Books
"Reminiscent of
The Red Tent
, Anita Diamant's book-club favorite..."—
Susannah Meadows, The New York Times
"[A] darkly whimsical first novel..."
—
Kirkus Reviews
Back Bay Books, 9780316195812, 352pp.
Publication Date: June 18, 2013
About the Author
Regina O'Melveny's poetry has been published widely in literary journals, garnering several prizes. She grew up at the edge of pungent chaparral in La Mesa, California, and chose to enroll at Callison College -- a school of International Studies at the University of the Pacific -- almost solely based upon the fact that the second year would be spent in India. Thus began her many extended travels that would later inspire The Book of Madness and Cures, her first novel. She lives in Rancho Palos Verdes, California.
or
Not Currently Available for Direct Purchase