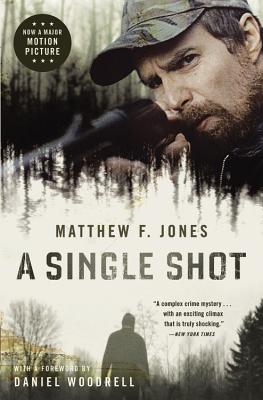 A Single Shot (Paperback)
Mulholland Books, 9780316196703, 272pp.
Publication Date: September 19, 2011
Other Editions of This Title:
Paperback (12/10/2013)
Paperback (9/1/2011)
* Individual store prices may vary.
Description
After the loss of his family farm, John Moon is a desperate man. A master hunter, his ability to poach game in-season or out is the only thing that stands between him and the soup kitchen line. Until Moon trespasses on the wrong land, hears a rustle in the brush, and fires a single fateful shot.

Following the bloody trail, he comes upon a shocking scene: an illegal, deep woods campground filled with drugs, bundles of cash and the body of a dead young woman, killed by Moon's stray bullet.

Faced with an ultimate dilemma, Moon has to make a choice: does he take the money and ignore his responsibility for the girl's death? Or confess?

But before he has a chance to decide, Moon finds himself on the run, pursued by those who think the money is theirs. Men who don't care about right and wrong and who want only one thing from John Moon: his body, face down in a ditch.

Matthew F. Jones' A Single Shot is a rare, visionary thriller reminiscent of the work of Tom Franklin, Ron Rash, Daniel Woodrell, and Cormac McCarthy.
About the Author
Matthew F. Jones is also the author of the critically acclaimed novels Boot Tracks, Deepwater, The Elements of Hitting, Blind Pursuit and The Cooter Farm, as well as a number of screenplays, including adaptations of A Single Shot and Boot Tracks, both which are being filmed in 2011. Deepwater was made into a film in 2005. He grew up in rural upstate New York and lives now in Charlottesville, Virginia.
Praise For A Single Shot…
"One of the finest novels of rural crime and moral horror in the past few decades."—
Daniel Woodrell
"A backwoods drama that is part Crime and Punishment, part Deliverance, and all white-knuckled suspense....it packs a helluva punch."
—
People
"A harrowing literary thriller....a powerful blend of love and violence, of the grotesque and the tender."
—
The New York Times
"A terrific novel....you can hardly breathe while you're reading this book....his crisis evokes every palm-sweating, heart-stopping, seemingly undoable mistake you've ever made."—
Los Angeles Times
"Jones owns a fine writer's eye for the kind of details that matter."—
The Washington Post