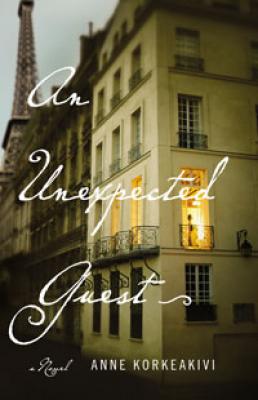 An Unexpected Guest (Paperback)
A Novel
Back Bay Books, 9780316196734, 304pp.
Publication Date: July 2, 2013
Other Editions of This Title:
Digital Audiobook (4/16/2012)
Paperback, Large Print (1/3/2013)
Hardcover (4/17/2012)
* Individual store prices may vary.
Description
"A beautifully written novel about living with our many selves."
- Nicola Keegan, author of Swimming
Clare Moorhouse, the American wife of a high-ranking diplomat in Paris, is arranging an official dinner crucial to her husband's career. As she shops for fresh stalks of asparagus and works out the menu and seating arrangements, her day is complicated by the unexpected arrival of her son and a random encounter with a Turkish man, whom she discovers is a suspected terrorist. More unnerving is a recurring face in the crowd, one that belonged to another, darker era of her life. One she never expected to see again.
Like Virginia Woolf did in
Mrs. Dalloway
, Anne Korkeakivi brilliantly weaves the complexities of an age into an act as deceptively simple as hosting a dinner party.
About the Author
Anne Korkeakivi was born and raised in
New York City
but currently lives in
Geneva, Switzerland
, with her husband, who works at the United Nations, and two daughters. She has also lived in
France
,
Finland
, and a number of states in the
Union
, accumulating a B.A. in Classics and an M.A. in English and Comparative Literature. Her short stories have run in
The Yale Review
,
The Atlantic
,
The Bellevue Literary Review
, and other magazines.
Praise For An Unexpected Guest: A Novel…
"Anne Korkeakivi's writing has all the best qualities of an Ishiguro novel. Clare, a seemingly selfless diplomat's wife, the epitome of restraint and hermetic detachment, unravels before us into a woman of dangerous allegiances, passions, and moral dilemmas, in prose that is both beautiful and razor sharp. Paris is depicted with subtle complexity, a city that reposes as it threatens, full of scorn and grace. Korkeakivi's sense of detail is remarkable while grounded in authenticity. An Unexpected Guest is a feast of a novel."
—George Hagen, author of The Laments

" This beautifully modulated first novel follows one day in the life of a British diplomat's American wife as she organizes a dinner party crucial to her husband's career...Struggling to sort out questions of loyalty, moral expediency and love while calmly carrying out the mundane responsibilities of her life, Clare finds a path to forgiveness and redemption. Yes, this is an homage to Virginia Woolf; echoes of Clarissa Dalloway resonate through Clare Moorhouse....but Clare takes very different lessons from her day than Clarissa. With this seemingly slight day-in-the-life tale, Korkeakivi produces a knowing comedy of manners, a politically charged thriller and a genuinely moving study of the human heart."—Kirkus, Starred Review

"Korkeakivi fluidly fuses the past and present, building a solid character in Clare and powerfully exploring whether redemption from past regrets is possible and the lengths one must go to attain it."—Publisher's Weekly

"In this first novel, Korkeakivi updates Virginia Woolf's Mrs. Dalloway with a new heroine....The book is as wonderfully self-possessed as it leading lady, and winningly suspenseful as well."—Whole Living Magazine

"An Unexpected Guest is a quietly intelligent novel about a woman who, at long last, learns to be honest with herself."
—Yvonne Zipp, Christian Science Monitor

"Cooly composed...."—Ihsan Taylor, The New York Times Book Review