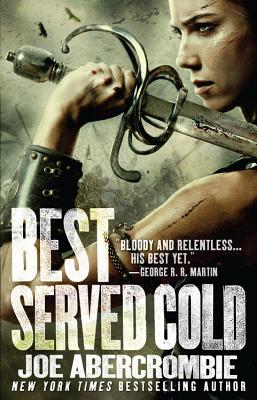 Best Served Cold (Paperback)
Orbit, 9780316198356, 672pp.
Publication Date: July 24, 2012
Other Editions of This Title:
Digital Audiobook (11/2/2015)
Hardcover (7/1/2009)
Mass Market (6/1/2010)
Pre-Recorded Audio Player (4/1/2016)
Compact Disc (2/16/2016)
Compact Disc (2/16/2016)
Paperback (6/1/2010)
MP3 CD (12/1/2009)
Compact Disc (12/1/2009)
Compact Disc (12/1/2009)
* Individual store prices may vary.
Description
Springtime in Styria. And that means war.
There have been nineteen years of blood. The ruthless Grand Duke Orso is locked in a vicious struggle with the squabbling League of Eight, and between them they have bled the land white. While armies march, heads roll and cities burn, and behind the scenes bankers, priests and older, darker powers play a deadly game to choose who will be king.
War may be hell but for Monza Murcatto, the Snake of Talins, the most feared and famous mercenary in Duke Orso's employ, it's a damn good way of making money too. Her victories have made her popular - a shade too popular for her employer's taste. Betrayed, thrown down a mountain and left for dead, Murcatto's reward is a broken body and a burning hunger for vengeance. Whatever the cost, seven men must die.
Her allies include Styria's least reliable drunkard, Styria's most treacherous poisoner, a mass-murderer obsessed with numbers and a Northman who just wants to do the right thing. Her enemies number the better half of the nation. And that's all before the most dangerous man in the world is dispatched to hunt her down and finish the job Duke Orso started...
Springtime in Styria. And that means revenge.
First Law Trilogy
The Blade Itself
Before They Are Hanged
Last Argument of Kings

Novels in the First Law world
Best Served Cold
The Heroes
Red Country
About the Author
Joe Abercrombie is the New York Times bestselling author of Red Country and the First Law trilogy: The Blade Itself, Before They Are Hanged, and Last Argument of Kings. He is a full time writer, and occasional freelance film editor, who lives in Bath, England with his wife and three children.
Praise For Best Served Cold…
"The battles are vivid and visceral, the action brutal, the pace headlong, and Abercrombie piles the betrayals, reversals, and plot twists one atop another to keep us guessing how it will all come out. This is his best book yet." --- George R.R. Martin

"Joe Abercrombie takes the grand tradition of high fantasy literature and drags it down into the gutter, in the best possible way. Monza is a beautiful mercenary who has sworn to kill the seven men who tried to kill her. No elves, no wands - just lots of down-and-dirty swordplay." --- Time

"Abercrombie is both fiendishly inventive and solidly convincing, especially when sprinkling his appallingly vivid combat scenes with humor so dark that it's almost ultraviolet." --- Publishers Weekly
or
Not Currently Available for Direct Purchase