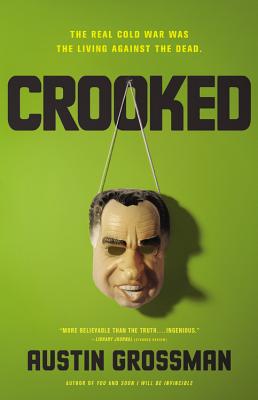 Crooked
Hardcover

* Individual store prices may vary.
Other Editions of This Title:
Digital Audiobook (7/27/2015)
Paperback (8/2/2016)
Description
Award-winning novelist Austin Grossman reimagines the Cold War as an epic battle against the occult waged by the ultimate American antihero: Richard Nixon.

Richard Milhous Nixon lived one of the most improbable lives of the twentieth century. Our thirty-seventh president's political career spanned the button-down fifties, the Mad Men sixties, and the turbulent seventies. He faced down the Russians, the Chinese, and ultimately his own government. The man went from political mastermind to a national joke, sobbing in the Oval Office, leaving us with one burning question: how could he have lost it all?

Here for the first time is the tale told in his own words: the terrifying supernatural secret he stumbled upon as a young man, the truth behind the Cold War, and the truth behind the Watergate cover-up. What if our nation's worst president was actually a pivotal figure caught in a desperate struggle between ordinary life and horrors from another reality? What if the man we call our worst president was, in truth, our greatest?

In Crooked, Nixon finally reveals the secret history of modern American politics as only Austin Grossman could reimagine it. Combining Lovecraftian suspense, international intrigue, Russian honey traps, and a presidential marriage whose secrets and battles of attrition were their own heroic saga, Grossman's novel is a masterwork of alternative history, equal parts mesmerizing character study and nail-biting Faustian thriller.
Praise For Crooked…
"Endlessly compelling . . . As eerie and absorbing as it is fantastically ludicrous . . . Grossman out-nuts the nut-jobs with a premise that's as outlandish as it is superbly conceived. . . . His details of Nixon's imaginary life-as well as those of his wife, Pat, and other contemporaries such as John F. Kennedy, Henry Kissinger and Ronald Reagan-are threaded into actual history with an intricate, clever and startling plausibility. . . .
Crooked
isn't simply a work of simple satire or wonky alt-history; it's a speculative character study that taps into truths about Nixon that may be more essential than literal. That is, when they're not deliciously absurd."—
Jason Heller
,
NPR
"A cantering hodgepodge of American history, black magic and political satire . . .
Pride and Prejudice and Zombies,
Washington-style."—
Ron Charles
,
Washington Post
"Clever...[Grossman] creates an antihero as tormented as any Marvel or DC villain. A nuanced, funny and moving characterization of a man reviled during (and after) his term of office. A droll riff on 20th century politics. [Grossman has] impressive narrative gifts...those who love deconstructing the supernatural literary references in series like 'True Detective' and 'Lost' will find much to savor in 'Crooked.'"
—
Elizabeth Hand
,
Los Angeles Times
"
Crooked
is insightful, suspenseful and funny. . . . As secret histories go,
Crooked
makes more sense than many. Fans of either political skulduggery or Lovecraftian terror are likely to relish the novel's many dark pleasures."—
Michael Berry
,
San Francisco Chronicle
"A wicked & wickedly funny thriller . . . Lots of dark fun!"
—
R.L. Stine
"The journey on which Grossman dispatches Nixon is a fun one, a Merry Pranksters bus driven by Saruman or Sauron in
Lord of the Rings
."—
Ray Locker
,
USA Today
"A captivating parallel tale."
—
Entertainment Weekly
"Funny, intelligent . . . Intrigue and irony abound . . . Grossman has clearly done his homework on Nixon."
—
Chris Tucker
,
Dallas Morning News
"Crooked
confirms and details the extremely esoteric and occult presence we always suspected lay at the heart of the Nixon administration. It's got spies, and political intrigue, and a sitting President spilling his own blood onto a pentagram hidden beneath the Oval Office rug, which is to say there are few of my buttons this book does not push."—
John Darnielle
,
author of Wolf in White Van
"At once wildly imaginative and deeply intimate, CROOKED is a demonically fun political thriller. The brilliance of Austin Grossman is in making big stories personal, even when the big story is super-powered presidents and intercontinental necromantic missiles."
—
Max Barry
,
author of Lexicon
"In telling the secret story of Richard Nixon, Austin Grossman draws back the curtain on American history. Senator Joe McCarthy should have been much,
much
more frightened. Once I started reading
Crooked
, I couldn't put it down. But be warned, even as you devour this book, it will devour you."—
Daniel O'Malley
,
author of The Rook
Mulholland Books, 9780316198516, 368pp.
Publication Date: July 28, 2015
About the Author
Austin Grossman is a video game design consultant and the author of You and Soon I Will Be Invincible, which was nominated for the Center for Fiction First Novel Prize. His writing has appeared in Granta, the Wall Street Journal, and the New York Times. He lives in Berkeley, California.
Coverage from NPR
or
Not Currently Available for Direct Purchase