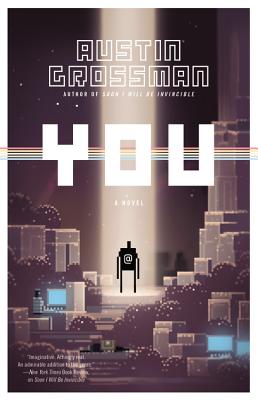 You
Hardcover

* Individual store prices may vary.
Other Editions of This Title:
Digital Audiobook (4/15/2013)
Paperback (4/8/2014)
Description
When Russell joins Black Arts games, brainchild of two visionary designers who were once his closest friends, he reunites with an eccentric crew of nerds hacking the frontiers of both technology and entertainment. In part, he's finally given up chasing the conventional path that has always seemed just out of reach. But mostly, he needs to know what happened to Simon, his strangest and most gifted friend, who died under mysterious circumstances soon after Black Arts' breakout hit.

As the company's revolutionary next-gen game is threatened by a software glitch, Russell finds himself in a race to save his job, Black Arts' legacy, and the people he has grown to care about. The deeper Russell digs, the more dangerous the glitch appears -- and soon, Russell comes to realize there's much more is at stake than just one software company's bottom line.
Praise For You…
"A razor-sharp comedy ... a smart meditation on the nature of gaming. Grossman, who has designed video games, brings experience but more importantly abundant affection to describing this world--the welcome recognition of the one Dungeon and Dragons enthusiast for another, the surreal happiness that comes from mastery, the semi-ironic clinging to juvenile aesthetics."—Boston Globe

"Some of the most startling, acute writing on video games yet essayed."—Tom Bissell, Harper's

"Combines videogames, advanced technology, and suspense into one crazy pageturner."—Kansas City Star

"You confirms Grossman's status as a major talent. Grossman isn't just chronicling the rise and fall of a company, or of a character, or even an industry. Rather, he uses YOU as a tool to prise open the mystical center of what art is, what games are, what fun is, and how they all mix together. A novel that both uplifts and entertains, and reframes the world we live in and the things we do in it. Easily one of the best books I've read this year."—Cory Doctorow, Boing Boing

"A celebration of videogames and their creators."—Booklist, starred review

"Genuine energy. A terrific book."—The Millions

"YOU is every bit as fun as you hope it's going to be, and also much more. Grossman draws you in with his clever premise, but then as you progress through the levels, you understand the complexity of the world he has built. Full of wit, ingenuity, and nostalgia -- a meditation on what it means to be the hero of the game."—Charles Yu, author of How to Life Safely in a Science Fictional Universe

"A brilliant, incisive, and very funny journey through the adolescence of the computer game industry, delving with wit and charm into the fascinating question of exactly whose story is being told."—Max Barry, author of Jennifer Government and Machine Man
Mulholland Books, 9780316198530, 400pp.
Publication Date: April 16, 2013
About the Author
Austin Grossman is a video game design consultant and the author of You and Soon I Will Be Invincible, which was nominated for the Center for Fiction First Novel Prize. His writing has appeared in Granta, the Wall Street Journal, and the New York Times. He lives in Berkeley, California.
or
Not Currently Available for Direct Purchase