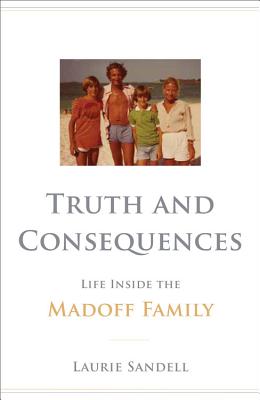 Truth and Consequences
Life Inside the Madoff Family
Hardcover

* Individual store prices may vary.
Other Editions of This Title:
Digital Audiobook (10/30/2011)
CD-Audio (10/31/2011)
Description
In December 2008, the world watched as master financier Bernard L. Madoff was taken away from his posh Manhattan apartment in handcuffs, accused of swindling thousands of innocent victims-including friends and family-out of billions of dollars in the world's largest Ponzi scheme. Madoff went to jail; he will spend the rest of his life there. But what happened to his devoted wife and sons? The people closest to him, the public reasoned, must have known the truth behind his astounding success. Had they been tricked, too?

With unprecedented access to the surviving family members -- wife Ruth, son Andrew and his fiancéee Catherine Hooper -- journalist Laurie Sandell reveals the personal details behind the headlines.

How did Andrew and Mark, the sons who'd spent their lives believing in and building their own families around their father's business first learn of the massive deception? How does a wife, who adored her husband since they were teenagers, begin to understand the ramifications of his actions? The Madoffs were a tight-knit and even claustrophobic clan, sticking together through marriages, divorces, and illnesses. But the pressures of enduring the massive scandal push them to their breaking points, most of all son Mark, whose suicide is one of the many tragedies that grew in the wake of the scandal.

Muzzled by lawyers, vilified by the media and roundly condemned by the public, the Madoffs have chosen to keep their silence -- until now. Ultimately, theirs is one of the most riveting stories of our time: a modern-day Greek tragedy about money, power, lies, family, truth and consequences.
Praise For Truth and Consequences: Life Inside the Madoff Family…
"This biography about Ponzi schemer Bernie Madoff's clan is chock-full of drama.... anyone curious about this fractured, once tight-knit family will find plenty of food for thought here." 3-1/2 Stars—Nicole Weisensee Egan, People

"Although there have been at least 10 books written about the scandal, none has taken such an inside look at the personal lives of the Madoff nuclear family as this latest one by author Sandell. Although the Madoff family has been constantly hounded by reporters and the paparazzi since the story broke, Sandell has been the first to get the family to open up and tell their side of the story. Treated as pariahs, the family members have had to deal with the brunt of the ridicule and shame in the court of public opinion, while Madoff himself remains locked deeply inside a high-security federal prison.... Sandell spends a great deal of time setting the stage in a biographical account that includes typical family ties, celebrations, trials, and tribulations; the story... really starts to heat up after the confession, when the lives of Ruth, Andrew, and Mark begin to completely unravel. Sandell paints a sympathetic portrait that partially redeems Ruth and Andrew as they attempt to rebuild their lives and achieve some semblance of normalcy."—David Siegfried, Booklist

"Sandell makes a legitimate case that Mark and Andrew Madoff really were caught off guard by their father's crimes."—Kevin G. Keane, San Francisco Chronicle
Little, Brown and Company, 9780316198936, 352pp.
Publication Date: October 31, 2011
About the Author
Laurie Sandell has written for Esquire, GQ, Glamour, and InStyle, among others, and has contributed cartoons to New York, Glamour and the Wall Street Journal. Her first book, the graphic memoir The Impostor's Daughter -- about her own experiences with her eccentric, secretive father -- was nominated for a 2009 Eisner Award. She lives in Los Angeles, California.
or
Not Currently Available for Direct Purchase