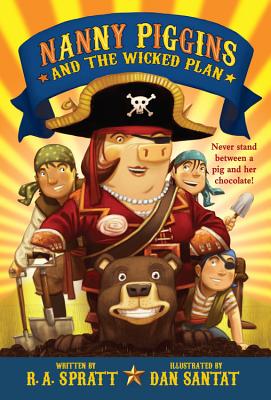 Nanny Piggins and the Wicked Plan (Paperback)
Little, Brown Books for Young Readers, 9780316199223, 320pp.
Publication Date: July 16, 2013
Other Editions of This Title:
Hardcover (7/10/2012)
Paperback (3/1/2012)
* Individual store prices may vary.
Description
You should never cross a flying pig...When Mr. Green decides to get married, his children are horrified. If he carries out his diabolical plan, he'll fire their beloved nanny. Breakfast without chocolate? Never! Their father must be stopped, and Nanny Piggins, a former circus pig and a champion pit baker, is just the pig to do it!R.A. Spratt's delightful follow-up to her award-winning debut is chock-full of thrilling adventures for the feisty Nanny Piggins, her ballet-dancing bear brother, and the Green children. Dan Santat is back with illustrations that capture the fun and high-flying spirit of these hilarious stories.
About the Author
R.A. Spratt is an award-winning comedy writer with fifteen years of experience in the television industry. She lives in Sydney, Australia, with her husband and two daughters. Unlike Nanny Piggins, she has never willingly fought a Gypsy Queen over a pit of fire. You can visit her at www.raspratt.com. Dan Santat is the author/illustrator of Sidekicks and the winner of the Silver Medal from the Society of Illustrators for Oh No! (Or How My Science Project Destroyed the World) by Mac Barnett. He lives in Los Angeles, California. You can visit him at www.dansantat.com.
Praise For Nanny Piggins and the Wicked Plan…
Praise for Nanny Piggins and the Wicked Plan:
* "If Amelia Bedelia and Mary Poppins raised a piglet, Nanny Piggins ... could surely beat that pig in a cake-eating contest...
Australia's favorite porcine childcare worker returns in a new collection of adventures sure to entertain and possibly inspire envy in readers who'll wish she were their nanny...
Feisty, funny Nanny Piggins and her adoring charges will charm readers and listeners stateside, who'll be overjoyed there are five additional volumes already out Down Under."
—
Kirkus (starred review)
* "Nanny Piggins returns and more hilarity ensues...the action is nonstop and the silliness never ending, though there are words of wise wisdom here as well."—
Booklist (starred review)Praise for The Adventures of Nanny Piggins:

*
"
Mary Poppins, move over-or get shoved out of the way. Nanny Piggins has arrived...
This is smart, sly, funny, and marvelously illustrated with drawings that capture Nanny's sheer pigginess."—
Booklist
"Spratt's Mary Poppins-cum-Paddington Bear with a sprinkling of Snickettian humor makes for a terrific read aloud...
Readers will demand swift release of the two sequels.
"—
Kirkus
"Reluctant and avid readers alike will get caught up in this book's humor, charm, and adventure."—
School Library Journal