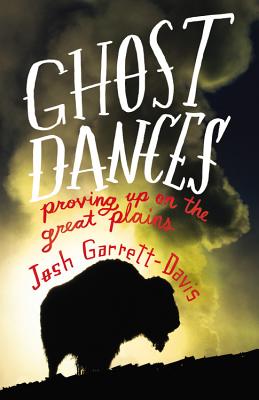 Ghost Dances
Proving Up on the Great Plains
Hardcover

* Individual store prices may vary.
Description
Growing up in South Dakota, Josh Garrett-Davis knew he would leave. But as a young adult, he kept going back -- in dreams and reality and by way of books. With this beautifully written narrative about a seemingly empty but actually rich and complex place, he has reclaimed his childhood, his unusual family, and the Great Plains.

Among the subjects and people that bring his Midwestern Plains to life are the destruction and resurgence of the American bison; Native American "Ghost Dancers," who attempted to ward off destruction by supernatural means; the political allegory to be found in The Wonderful Wizard of Oz; and current attempts by ecologists to "rewild" the Plains, complete with cheetahs.

Garrett-Davis infuses the narrative with stories of his family as well -- including his great-great-grandparents' twenty-year sojourn in Nebraska as homesteaders and his progressive Methodist cousin Ruth, a missionary in China ousted by Mao's revolution. Ghost Dances is a fluid combination of memoir and history and reportage that reminds us our roots matter.
Praise For Ghost Dances: Proving Up on the Great Plains…
With Ghost Dances, Josh Garrett-Davis bursts on the literary scene like a fresh, punk-voiced Wallace Stegner, weaving the story of his own coming of age into the tangled history of the Great Plains. A familiar prairie past of sod houses and populists lives here alongside a modern landscape of broken families and alienated teenagers, Christian fundamentalists and Indian activists. Histories of failure and destruction weigh down the present and mute the possibilities for the future. But the Great Plains emerge here as a place of terrible beauty, explosive possibilities, and that most American of emotions - hope.—Martha A. Sandweiss, author of Passing Strange

Ghost Dances is beautifully open-spirited. Its ambition never steps on its sense of humor. Garrett-Davis reads his own life as an extension of a landscape that both nurtured and tried to stunt it. What I liked best was how he let the edges mingle: you weren't always sure if the book was about him or about the Plains, and neither was he. Here is a writer whose mind can intrigue us, and a first book that makes it fun to imagine what he might do.—John Jeremiah Sullivan, author of Pulphead

"A meditation on home and homelessness, Ghost Dances combines memoir, history, and vision into an evocative chronicle in the ocean of grass where Josh Garrett-Davis came of age amid loss, love, and the rituals of hope. A unique and moving book."—Brenda Wineapple, author of White Heat

"Alienation and authenticity commingle in this memoiristic meditation on American's lonesome midsection....Garrett-Davis writes evocatively of "the latent fury in this monotonous [Plains] landscape" and finds some juicy tufts of lore to graze on."—Publishers Weekly

"Josh Garrett-Davis has given us a tremendous memoir-as much a narrative about himself as the cradle of the Plains where he was born. He shows us that "proving up" often means letting go, and we meet all the noble, flawed, and resilient actors of the Plains here, including bison, punk rockers, Cather, Indians, Anglo homesteaders, and home wreckers, too. A wonderful read."—David Treuer, author of Rez Life
Little, Brown and Company, 9780316199841, 336pp.
Publication Date: August 21, 2012
About the Author
Josh Garrett-Davis has an MFA from Columbia and is currently a PhD student in American history at Princeton. Ghost Dances is his first book.
Book Videos