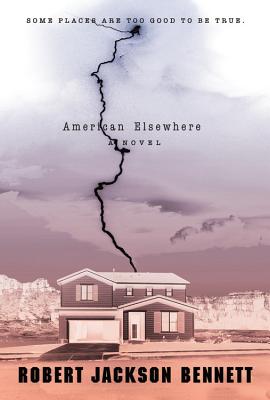 American Elsewhere
Paperback

* Individual store prices may vary.
Other Editions of This Title:
Digital Audiobook (8/15/2013)
Description
From one of our most talented and original new literary voices comes the next great American supernatural novel: a work that explores the dark dimensions of the hometowns and the neighbors we thought we knew.

Some places are too good to be true.

Under a pink moon, there is a perfect little town not found on any map: Wink, New Mexico.

In that town, there are quiet streets lined with pretty houses, houses that conceal the strangest things.

After a couple years of hard traveling, ex-cop Mona Bright inherits her long-dead mother's home. And the closer Mona gets to her mother's past, the more she understands that the people of Wink are very, very different . . .

"Perfect for fans of Stephen King and Neil Gaiman." -- Library Journal
Praise For American Elsewhere…
"American Elsewhere conjures up echoes of the best works of Ray Bradbury and Stephen King. ... American Elsewhere manages to surprise, terrify and move the reader."—Los Angeles Times

"This wonderful offering is perfect for fans of Stephen King and Neil Gaiman."—Library Journal

"Highly impressive."—Kirkus Reviews

"Bennett's novel may remind readers of the early works of Stephen King, presenting a small town where nothing is what it seems.... Bennett's work also evokes a mood similar to that of Mark Z. Danielewski's House of Leaves, where every darkness may swallow a person only to spit them out into a place akin to Wonderland."—RT Book Reviews

"Bennett gives the idealized image of the American dream a pan-dimensional twist with this alien invasion tale, part Bradbury and part L'Engle with a dash of Edward Scissorhands... Readers will be captivated from start to finish."—Publishers Weekly (Starred Review) on American Elsewhere

"The novel starts out curious and odd but quickly becomes terrifying and haunting, as the author reveals more about the people of Wink, who just may be the most curious and intimidating collection of folks you're likely to meet outside the pages of Stephen King.... A beautifully written, claustrophobic, and deeply memorable horror novel."—Booklist

"Mad and humorous, gory and poignant, American Elsewhere is a sort of mid-20th-century retelling of the embodiment of Lovecraftian Elder Gods by way of Alamogordo's legendary atomic tests. It's not to be missed.—Seattle Times

"So American Elsewhere is basically so good that I want to camp outside @robertjbennett's house until he tells me his secret."—Adam Christopher
Orbit, 9780316200202, 688pp.
Publication Date: February 12, 2013
About the Author
Robert Jackson Bennett was born in Baton Rouge, Louisiana. Winner of the Shirley Jackson Award, the Sydney J. Bounds Award, and an Edgar Award, he is the author of the novels Mr. Shivers, The Company Man, The Troupe, American Elsewhere, the Founders trilogy, and the Divine Cities trilogy, which was a 2018 Hugo Awards finalist in the Best Series category. Find out more about the author at www.robertjacksonbennett.com.