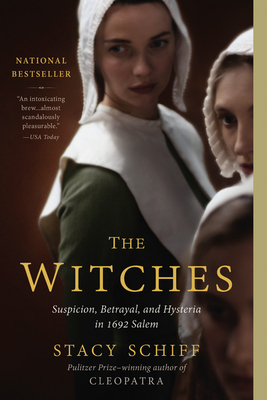 The Witches
Suspicion, Betrayal, and Hysteria in 1692 Salem
Paperback

* Individual store prices may vary.
Other Editions of This Title:
Digital Audiobook (10/26/2015)
Hardcover, Large Print (10/27/2015)
Hardcover (10/27/2015)
CD-Audio (9/20/2016)
Compact Disc (10/27/2015)
Description
The Pulitzer Prize-winning author of Cleopatra, the #1 national bestseller, unpacks the mystery of the Salem Witch Trials.

It began in 1692, over an exceptionally raw Massachusetts winter, when a minister's daughter began to scream and convulse. It ended less than a year later, but not before 19 men and women had been hanged and an elderly man crushed to death.

The panic spread quickly, involving the most educated men and prominent politicians in the colony. Neighbors accused neighbors, parents and children each other. Aside from suffrage, the Salem Witch Trials represent the only moment when women played the central role in American history. In curious ways, the trials would shape the future republic.

As psychologically thrilling as it is historically seminal, The Witches is Stacy Schiff's account of this fantastical story -- the first great American mystery unveiled fully for the first time by one of our most acclaimed historians.
Praise For The Witches: Suspicion, Betrayal, and Hysteria in 1692 Salem…
"History in the hands of Stacy Schiff is invariably full of life, light, shadow, surprise, clarity of insight, and so it is again and then some in her latest work, The Witches. Few writers combine as she does superb scholarship and an exceptional gift for language with amazing reach and agility of mind. This is a superb book."—David McCullough, Pulitzer Prize-winning author of The Wright Brothers

"The Witches is the fullest and finest story ever told about Salem in 1692, and no one else could tell it with the otherworldly flair of Stacy Schiff."—Joseph J. Ellis, Pulitzer Prize-winning author of The Quartet

"Stacy Schiff has beautifully combined remarkable story telling with historical accuracy and insight. Shehas opened up important new avenues for Salem scholarship."—Bernard Rosenthal, editor of Records of the Salem Witch-Hunt

"Stacy Schiff's The Witches is an indelibly etched morality fable, the best recounting of the Salem hysteria in modern times. Clear-eyed and sympathetic, Schiff makes the complex seem simple, crafting a taut narrative that takes in religion, politics, folklore, and the intricate texture of daily life in Massachusetts Bay, with particular attention to those 'wonder-working' women and girls who chose this moment to blow apart the Puritan utopia they'd helped to found. It's all here in one devilish, oracular book."—Megan Marshall, Pulitzer Prize-winning author of Margaret Fuller

"Stacy Schiff has brought her extraordinary gifts as researcher and writer to revivify the old but endlessly compelling story of the 1692 Salem witch hunt. Her mastery of detail, her ingenuity in spotting connections and trend lines, and her intuitive feel for the people involved combine in a brilliant portrayal of cascading human tragedy. It is sharply etched. It is ground level. It is emotionally powerful. It is full of surprising twists and turns. If history is time travel, this is a journey readers will never forget."—John Demos, author of Entertaining Salem

"Enchanting. Out of the shadows of the past come excitable young girls, pompous ministers, abusive judges, grieving parents, and angry neighbors, all of them caught up in a terrifying process that seemed to have no end: discovering who among them deserved death for being in league with Satan. The Witches is as close as we will ever come to understanding what happened in and around Salem in 1692. Courtrooms, streets, churches, farm yards, taverns, bedrooms-all became theater-like places where anger, anxiety, sorrow, and tragedy are entangled. An astonishing achievement."—David D. Hall, Bartlett Research Professor of New England Church History, Harvard University

"From Cleopatra to the Salem coven. From intelligent rule to hysteria, mayhem, and murder. The Salem witch trials offer Stacy Schiff an out-sized drama that seized Americans' imaginations more than 300 years ago. All of Schiff's books demonstrate her rigor as a historian and her dexterity as a stylist. The Witches proves she has something else: the instincts of a thriller writer. This book needs a seat belt."—Kathryn Harrison, author of Joan of Arc

"Once again Stacy Schiff dazzles us. The Witches is a must read for anyone intrigued by this baffling and horrifying chapter from America's Puritan past. What Schiff uncovers is mesmerizing and shocking. Her meticulous research and lyrical writing lay bare an injustice that we should never forget-lest we repeat it."—Patricia Cornwell, author of Depraved Heart

"This brilliant, compelling book is the most meticulously researched, effectively constructed, and beautifully written work I have read in a very long time. It is dramatic history and also a timeless thriller: who-or what-drove a New England town to madness three centuries ago, resulting in the deaths of nineteen men and women for 'witchcraft?' The answers are astonishing."—Robert K. Massie, Pulitzer Prize-winning author of Catherine the Great

"[A] fresh take on the Salem witch trials."—Mackenzie Cummings-Grady, Boston Globe

"Schiff's books are based on serious scholarly research, yet they're conveyed in bright, accessible prose... She displays the same sharp intelligence and eclectic interests that distinguish her body of work."—Publishers Weekly (Most Anticipated Books of the Fall)

"The Pulitzer-winning historian conjures a big year for witchcraft hysteria and hangings."—New York Magazine (Best of the Fall)

"Riveting nonfiction."—Entertainment Weekly (Fall Books Preview)

"Schiff, who had a hit with her biography Cleopatra, may get even more attention for her new look at America's infamous witch trials."—Jane Henderson, St. Louis Post-Dispatch

"Schiff has made a career of exploring the private lives of iconic women throughout history.... Now she's expanding her focus to a group of notable women: the women in the center of the hysteria over witches that consumed the early days of the U.S. colonies.... The episode lasted only a year, but had a sizable influence on our nation's history, which Schiff's book will unpack with her elegant prose and exhaustive research."—Shelby Pope, KQED

"This fully documented narrative...will find a welcome audience among readers of witchcraft or colonial histories as well as Schiff's legion of fans."—Library Journal

"Compulsively readable.... The best-selling Schiff never disappoints, and her eagerly anticipated account of the Salem witchcraft tragedy lives up to expectations, providing a fascinating account of one of the most infamous years in American history."—Margaret Flanagan, Booklist (starred review)

"Schiff delves into the archive to remind us that one of the most notorious miscarriages of justice in American history was also one of the few moments which featured regular women-not queens, not goddesses, but mothers and wives and daughters and servants-at the very center of drastic historical change. A wrenching, unforgettable read."—Katherine Howe, author of The Physick Book of Deliverance Dane

"The Witches is a vivid investigation of the original American nightmare. Stacy Schiff brilliantly teases apart the strands of myth and history. In an age when superstition remains a vibrant and dangerous force, her book is, alas, also relevant."—Russell Shorto, author of The Island at the Center of the World

"[Schiff] reconstructs the time and place in remarkable detail, offering portraits of the protagonists in all their poignant, if often infuriating, humanity. Through an immersive narrative involving a cast of dozens pulled from the historical record, Schiff skillfully re-creates the visceral tensions at the heart of everyday life in the Massachusetts Bay settlement."—Peter Manseau, Bookforum

"A vivid picture of 1692 Massachusetts [that] brings the Salem trials to life."—Steve Bennett, San Antonio Express News

"Schiff, a Pulitzer Prize winner, is a reliably entertaining guide...[to] one of the strangest, most fascinating chapters in American history."—Tom Beer, Newsday

"You might be frightened by how much of what Schiff uncovers about the way women were seen in American society in 1692 still resonates in contemporary culture."—Refinery29

"The fall's biggest history title."—Jocelyn McClurg, USA Today

"No stone [is] left unturned.... Schiff recreates the most chill-inducing, finger-pointing months in American history."—Steph Opitz, Marie Claire

"Few authors set the scene of history quite like Stacy Schiff.... The Witches brings a fresh eye to the worst misogynist atrocity in American history, tracing the complex cultural and psychological origins of the Puritan hysteria."—Megan O'Grady, Vogue.com

"Unlike the drudgery of the movie adaptation of The Crucible, which you probably watched in high school, Schiff writes with conviction and a strong sense of narrative, elevating the dry snooze of history to a new level. It's an endlessly fascinating read."—Megan Reynolds, Gawker

"Schiff possesses a talent for forcing us to rethink what we know.... The Witches explodes a lot of myths."—Deirdre Donahue, AARP

"[A] must-read."—Joanna Coles, Cosmopolitan

"Schiff's account is better written than any I have encountered....you are likely to find yourself turning the pages (as I did) with a sense that until now you'd never quite taken in what happened...[a] brilliantly assured narrative."—John Wilson, Christianity Today

"Fantastic."—Kristin Van Ogtrop, Time

"Sumptuous.... [This] sweeping history of the Salem witch trials resonates with its exploration of religion and paranoia.... Schiff nimbly connects Salem's fatal mania to subsequent witch-hunts, such as McCarthyism and the rise of Movement conservatism, revealing how close we remain to the specters and demons that stalked the Bay Colony more than three centuries ago."—Hamilton Cain, Minneapolis Star Tribune

"Meticulous and disturbing.... One of Schiff's strongest contributions to this American horror story is her constant reminder that while we may never be able to definitively explain exactly why 19 people (and two dogs) were executed for witchcraft in Massachusetts (owing in part to a concerted effort to expunge any public records), we can still learn something from it."—Buzzy Jackson, Boston Globe

"A masterful account.... Schiff painstakingly reconstructs not just the events of 1692 but the world that birthed them.... Her accomplishment is all the more remarkable because there are no records of the court sessions-Schiff sifted through archival material as well as historical accounts written by witnesses years after the epidemic."—Elizabeth Hand, Los Angeles Times

"With fresh feminist insight, Schiff plumbs the mindset of late-seventeenth-century New England to explain our original 'national crackup.'"—Louisa Kamps, Elle

"Schiff delves into the minds and history of 1692 Salem as no one has before."—Laura DeMarco, Cleveland Plain Dealer

"With a bravura introduction, Schiff sets the stage, painting Salem as a backwater populated by a few hundred humorless and self-righteous souls.... Schiff's contribution is her ability to render history in vital detail, and from a contemporary perspective."—Claudia Rowe, Seattle Times

"A brilliant, exceptionally well-researched account of the 1692 Salem witch trials.... Much of what is so compelling about The Witches is how vividly Schiff brings this very different era to life.... This narrative approach works so well because Schiff just happens to be a superb and witty writer.... The Witches definitely sparkles."—Alden Mudge, BookPage

"Dazzling.... Schiff is at her best, infusing a historical event with as much life, mystery, and tragedy of any novelist."—Nicole Jones, Vanity Fair

"Compulsively readable.... Schiff expertly unknots what drove the Puritans to mass delusion. The reasons are timeless.... That the 1692 Salem witch trials were an anomaly is an illusion of the vantage point; we remain fascinated because we sense in our skin (and see in the news) that the same could be happening right now."—Nancy Rommelmann, Newsday

"Schiff brings to bear a sensibility as different from the Puritans' as can be imagined: gentle, ironic, broadly empathetic, with a keen eye for humor and nuance.... Thanks to this, and to Schiff's narrative gifts, the present-day reader flits above New England's smoky chimneys and thatched rooftops, swoops into the locked studies of magistrates and clergymen; stalks among the jealousies and rivalries of village schemers; even dwells briefly in the innermost thoughts of schoolchildren dead three centuries and more. It is wizardry of a sort-in a flash of brimstone, a whole world made wondrously visible."—Adam Goodheart, Atlantic

"[Schiff] brings her gifts to the confusions of Salem, piecing together a dramatic narrative from disparate and often tersely unrevealing sources, including diaries, memoirs, and court reports. She never lacks for an apt detail, drawing on academic studies that focus on everything from the region's sexual mores to the way sounds echoed in the atmosphere."—Ruth Franklin, Harper's
Back Bay Books, 9780316200592, 512pp.
Publication Date: September 20, 2016
About the Author
Stacy Schiff is the author of Véra (Mrs. Vladimir Nabokov), winner of the Pulitzer Prize; Saint-Exupéry, a Pulitzer Prize finalist; A Great Improvisation: Franklin, France, and the Birth of America, winner of the George Washington Book Prize and the Ambassador Book Award; Cleopatra: A Life, winner of the PEN/Jacqueline Bograd Weld Award for biography; and The Witches: Salem, 1692.

Schiff has received fellowships from the Guggenheim Foundation, the National Endowment for the Humanities, the American Academy of Arts and Letters, and the Center for Scholars and Writers at the New York Public Library. A member of the American Academy of Arts and Letters and named a Chevalier des Arts et Lettres by the French Government, she lives in New York City.
1. In The Witches, Stacy Schiff evokes what everyday life was like for the Puritans of Massachusetts. Drawing from Schiff's descriptions, what about the culture and routines of Puritan society would you say laid the foundation for the explosion of witchcraft?
2. The events of the book take place in the 17th century. Can you imagine something similar taking place today? Can you point to recent current events that have parallels to those Schiff describes?
3. In modern society, there are many who feel strongly that science and a belief in magic are incompatible. Was this also the case in the time of The Witches? How did the popularity of mysticism among highly educated citizens influence the way Puritan authorities handled accusations of witchcraft?
4. Consider the role gender played in the Salem witch trials. Most of those affected—whether in the position of accused or accuser—were female. What do you make of this? What social forces does Schiff suggest may have led to this gender imbalance?
5. Schiff often compares the experiences of the possessed women to the experiences of Joan of Arc, drawing parallels between the visions they had. At a time when women weren't allowed in the military, Joan of Arc used her visions to justify fighting in the armies of King Charles VII, and went on to become a hero. Think about the place of Puritan women and girls in society at the time of the trials. Did those who claimed to be victims of witchcraft derive a similar power from their visions?
6. Contrast the reactions of the officials—the two Mathers, Judges Hawthorne and Sewall, Parris, Stoughton, and ultimately Thomas Brattle—to the crisis. Who do you think exercised his influence the most responsibly?
7. On page 414 Schiff writes: "In troubled times, we naturally look for traitors, terrorists, secret agents." What fueled the Puritans' panic? Identify and discuss examples from your lifetime in which widespread panic has ignited. Were these instances of panic the product of deeper anxieties?
8. Arthur Miller's The Crucible, one of the most influential literary depictions of the witch crisis, was written and performed during the Red Scare, a period marked by fear of Communism's influence over American life. What do you suppose prompted Stacy Schiff's decision to research and write about Salem now, at this moment in history? In what ways do the events that have unfolded in the wake of 9/11 echo the period of the witch crisis?
9. Because of the small size and religious intensity of their community, the Puritans led very public lives, and the power of reputation and shaming provided fertile ground for accusations of witchcraft. With the rise of the internet as replacement for the public square in today's culture, has the act of shaming become more potent? How so? Does the society you live in place as high a premium on a clean reputation as Puritan society did? The Puritans held each other accountable for their adherence to a shared moral code. Do you find that this is true today? Who holds you accountable?
10. Can you imagine how those in and around the two Salems resumed their normal lives, how families embraced children who had accused now-dead relatives, how neighbors greeted those against whom they had testified, how congregants treated ministers who had denounced their family members? How do you read the various apologies and the timing of those apologies?