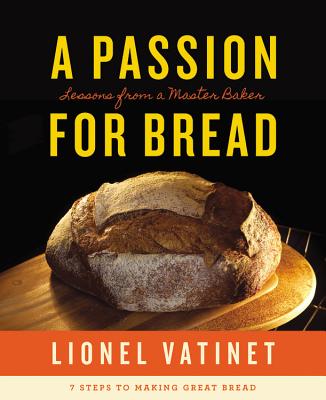 A Passion for Bread
Lessons from a Master Baker
Hardcover

* Individual store prices may vary.
Description
In this charming and practical cookbook, Master Baker Lionel Vatinet shares his knowledge and passion for baking irresistible bread.

A Passion for Bread brings a Master Baker's encyclopedic knowledge of bread, passed on from a long line of French artisan bakers, to the American home, with detailed instructions and dozens of step-by-step photographs. It covers everyday loaves like baguettes, ciabatta, and whole grain breads, as well as loaves for special occasions, including Beaujolais Bread, Jalapev±o Cheddar Bread, and Lionel Vatinet's celebrated sourdough boule. A chapter of delectable soup and sandwich recipes will inspire you to create the perfect accompaniments. The book offers a detailed introduction to bread baking, 65 recipes, and 350 full-color photographs.
Praise For A Passion for Bread: Lessons from a Master Baker…
"In his remarkable book
A Passion for Bread
, Lionel Vatinet, a Master Baker, shares his vast knowledge, his love of baking, and his deep understanding of the "staff of life," without which there are no meals at our house."—
Jacques Pépin
,
-
"Lionel Vatinet is known in the bread world as a baker's baker and a teacher of teachers...in his new book
A Passion for Bread,
he generously shares his vast knowledge with anyone who wants to learn how to make world-class bread, through his easy to follow methods and formulas."—
Peter Reinhart, author of Artisan Breads Everyday and The Bread Baker's Apprentice
,
-
"The depth of Lionel's knowledge, his experience teaching and running a wonderful thriving bakery, his sense of humor, and his extraordinary generosity, make him a treasure."
—
Maggie Glezer, author of Artisan Baking, winner of a James Beard Foundation Award
,
-
"In the small city of Cary, North Carolina, is a little-known national treasure, La Farm Bakery of Lionel Vatinet. Fortunately for bakers around the world, Lionel has finally written
A Passion for Bread
, a masterpiece of baking that will turn your kitchen into a Parisian boulangerie. Lionel learned to bake bread in Paris, and this outstanding book brings those lessons to your home."—
Nancy Silverton, founder of La Brea Bakery and author of The Mozza Cookbook
,
-
"Lionel Vatinet's passion is contagious, and his book is a treasure for bread bakers. Both his stories and his technical expertise will inspirepeople who love to bake to get their hands in the dough. Vatinet is recognized as one of the best bakers in this country, and we are lucky that he is willing to share is knowledge through the pages of this beautiful book."
—
Amy Scherber, Founder, Baker, Amy?s Bread
,
-
"In this terrific and inspiring collection, Master Baker Lionel Vatinet shows readers how to manipulate those simple ingredients to make all sorts of bread using the same seven basic steps...His detailed and accessible instructions, paired with copious step-by-step photos, will instill confidence and ensure readers are able to create boulangerie-wrothy breads at home."
—
Publishers Weekly (starred review)
It is a very attractive books with lots of step-by-step instructional photos of things like shaping and scoring loaves.
—
The Fresh Loaf
Little, Brown and Company, 9780316200622, 304pp.
Publication Date: November 5, 2013
About the Author
Lionel Vatinet is one of the most respected baking experts in America. In 1999, he coached the American team in the World Cup of Baking tournament to their first ever First Place win, and he has served as a baking consultant for Panera Bread, La Brea, and Zabar's. Educated as a baker's apprentice in France, Lionel remains true to the pledge he gave when inducted as a Les Compagnons du Devoir guild member to educate others in the art of baking. He owns La Farm Bakery in Cary, North Carolina, and regularly teaches baking courses there.
or
Not Currently Available for Direct Purchase