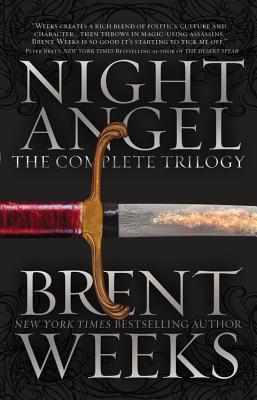 Night Angel (Paperback)
The Complete Trilogy (The Night Angel Trilogy)
Orbit, 9780316201285, 1264pp.
Publication Date: April 24, 2012
* Individual store prices may vary.
Description
The Night Angel Trilogy, one of the most popular epic fantasy series in recent years, is compiled into one volume for the first time. Included in this omnibus edition are: The Way of Shadows, Shadow's Edge, and Beyond the Shadows.
For Durzo Blint, assassination is an art - and he is the city's most accomplished artist.
For Azoth, survival is just the beginning. He was raised on the streets and knows an opportunity when he sees one - even when the risks are as high as working for someone like Durzo Blint.
Azoth must learn to navigate the assassins' world of dangerous politics and strange magics - and become the perfect killer.
Devour this blockbuster tale of assassination and magic by
New York Times
bestselling author, Brent Weeks, which has delighted readers all over the world--with over one million copies in print!
Night Angel
The Way of Shadows
Shadow's Edge
Beyond the Shadows

Night Angel: The Complete Trilogy (omnibus)

Perfect Shadow: A Night Angel Novella (e-only)
The Way of Shadows: The Graphic Novel

For more from Brent Weeks, check out:

Lightbringer
The Black Prism
The Blinding Knife
The Broken Eye
The Blood Mirror
The Burning White

About the Author
Brent Weeks was born and raised in Montana. He wrote on bar napkins and lesson plans before landing his dream job years and thousands of pages later. Brent lives in Oregon with his wife, Kristi, and their daughters. Find out more about the author at
www.brentweeks.com
or on twitter @brentweeks.
Praise For Night Angel: The Complete Trilogy (The Night Angel Trilogy)…
"What a terrific story! I was mesmerized from start to finish. Unforgettable characters, a plot that kept me guessing, non-stop action and the kind of in-depth storytelling that makes me admire a writer's work." --- Terry Brooks

"A compelling epic tale of heroism, vengeance, and magic" --- The Greenman Review

"An impressive debut." --- SFFWorld.com

"Best fantasy of the year, possibly the decade." --- BooksMonthly.co.uk

"Weeks creates a rich blend of politics, culture and character in the Night Angel Trilogy... then throws in magic-using assassins. Brent Weeks is so good it's starting to tick me off."—Peter V. Brett, The New York Times Bestselling author of The Desert Spear