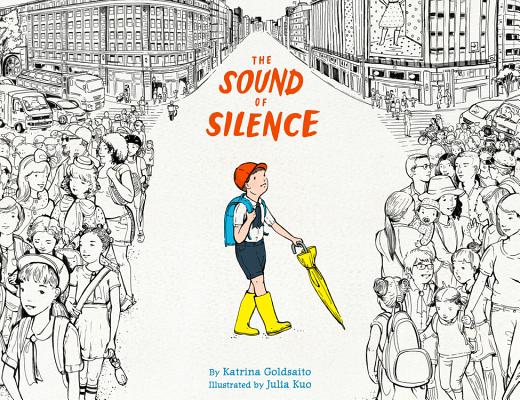 The Sound of Silence
Hardcover

* Individual store prices may vary.
Description
"Do you have a favorite sound?" little Yoshio asks. The musician answers, "The most beautiful sound is the sound of ma, of silence."
But Yoshio lives in Tokyo, Japan: a giant, noisy, busy city. He hears shoes squishing through puddles, trains whooshing, cars beeping, and families laughing. Tokyo is like a symphony hall!
Where is silence?
Join Yoshio on his journey through the hustle and bustle of the city to find the most beautiful sound of all.
Praise For The Sound of Silence…
"One of my absolute favorite books of the year, I'll tell anyone who will listen that The Sound of Silence is like a dharma talk led by Christopher Robin. Which is about as high a compliment as I can give."—The Huffington Post

"Only when Yoshio least expects it does the longed-for moment, breathless and fragile, arrive in this handsome picture book...."—The Wall Street Journal

"Deeply resonant...richly descriptive...The meditative pleasures of the book deepen with the thoughtful, dramatic compositions and bright colors of Kuo's illustrations. Read the notes, listen closely, and you might be able to hear the music and the silence too."—The Boston Globe

"Goldsaito's gentle prose and Julia Kuo's vivid woodblock-style illustrations...beckon the reader into Yoshio's world of sound...So intent is his listening that the moment when Yoshio finds that he can hear the silence feels like a treasure--or a perfect note."—The Washington Post

* "An inviting tale that will stretch inquisitive and observant young minds--and may even lead children to a greater appreciation of that golden commodity, silence."—Kirkus Reviews, starred review

* "This book will be especially welcome in settings that teach yoga and mindfulness, but its message and striking art will be appreciated anywhere the din of daily life can overwhelm."—School Library Journal, starred review

* "The language in this picture book evokes the cacophony of sounds a person hears throughout daily life and the beautifully drawn images show where these sounds come from."—School Library Connection, starred review

"Although the text is a smooth, self-contained bit of storytelling, Kuo's digitally colored pen drawings perform glorious double duty, introducing the bustling street scenes and orderly private interiors of Yoshio's beloved Tokyo, and translating the concept of ma into literal and figurative imagery."—The Bulletin of the Center for Children's Books, starred review

"Whether or not young audiences understand the lovely (but somewhat enigmatic) Zen lesson about silence, they will certainly grasp Yoshio's love for Tokyo's 'stream of sounds'."—Horn Book

"Yoshio's journey, rendered in pen and digital color, beautifully captures the bustle of Tokyo on a rainy day....Easily distinguished by his bright yellow umbrella and rain boots, [Yoshio] darts energetically from page to page."—Booklist

"Debut author Goldsaito's final passages about ma successfully illuminate the term and could be used to teach children to meditate...."—Publishers Weekly

"This pensive study of scenes and senses elicits new appreciation."—The San Francisco Chronicle
Little, Brown Books for Young Readers, 9780316203371, 40pp.
Publication Date: August 2, 2016
About the Author
Katrina Goldsaito's favorite sound is the sound of bare feet on tatami mats. In Tokyo, she worked as an on-camera TV journalist and producer for NHK-World, and has written for National Geographic, TheChristian Science Monitor, NPR, and The Japan Times. She lives near Golden Gate Park with her husband and son, and spends her days eating avocados and working on her first YA novel.

Julia Kuo's favorite sound is kuk-kuk-kuk (the sound an angry squirrel makes). She is the illustrator of Go, Little Green Truck and has created illustrations for American Greetings, the Cleveland Public Library, The New York Times, and Capitol Records, among many others. She works from Chicago for most of the year, and from Taipei over the winter.