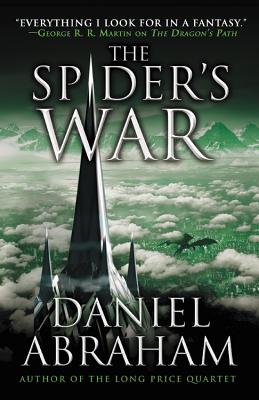 The Spider's War (The Dagger and the Coin #5) (Paperback)
Orbit, 9780316204057, 528pp.
Publication Date: March 8, 2016
* Individual store prices may vary.
Description
The epic conclusion to The Dagger and The Coin series, perfect for fans of George R.R. Martin.
Lord Regent Geder Palliako's great war has spilled across the world, nation after nation falling before the ancient priesthood and weapon of dragons. But even as conquest follows conquest, the final victory retreats before him like a mirage. Schism and revolt begin to erode the foundations of the empire, and the great conquest threatens to collapse into a permanent conflict of all against all.
In Carse, with armies on all borders, Cithrin bel Sarcour, Marcus Wester, and Clara Kalliam are faced with the impossible task of bringing a lasting peace to the world. Their tools: traitors high in the imperial army, the last survivor of the dragon empire, and a financial scheme that is either a revolution or the greatest fraud in the history of the world.
The Dagger and the Coin
The Dragon's Path
The King's Blood
The Tyrant's Law
The Widow's House
The Spider's War
Writing as James S. A. Corey (with Ty Franck)
The Expanse (soon to be a major SyFy Channel television series)
Leviathan Wakes
Caliban's War
Abaddon's Gate
Cibola Burn
Nemesis Games
About the Author
Daniel Abraham is the author of the critically-acclaimed Long Price Quartet. He has been nominated for the Hugo, Nebula, and World Fantasy awards, and won the International Horror Guild award. He also writes as MLN Hanover and (with Ty Franck) James S.A. Corey. He lives in New Mexico.
Praise For The Spider's War (The Dagger and the Coin #5)…
"Everything I look for in a fantasy."—George R.R. Martin on The Dragon's Path

"Abraham builds on The Dragon's Path to create and sustain a rich, satisfyingly complex epic fantasy."—Publishers Weekly on The King's Blood.

"Prepare to be shocked, startled, and entertained."—Locus on The Dragon's Path

"It's as if Clint Eastwood went to Narnia...A pleasure for Abraham's legion of fans."—Kirkus on The Dragon's Path

"Abraham is fiercely talented, disturbingly human, breathtakingly original and even on his bad days kicks all sorts of literary ass."—Junot Diaz on The Long Price Quartet

"This smart, absorbing, fascinating military fantasy, exciting and genuinely suspenseful, will keep readers on their toes."—Publishers Weekly (Starred Review) on The Tyrant's Law