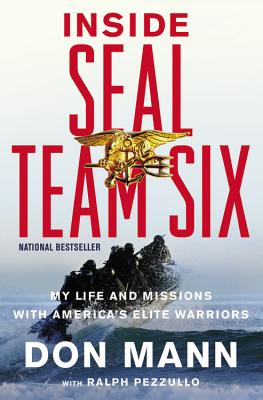 Inside SEAL Team Six: My Life and Missions with America's Elite Warriors (Paperback)
My Life and Missions with America's Elite Warriors
Back Bay Books, 9780316204309, 294pp.
Publication Date: June 5, 2012
* Individual store prices may vary.
or
Not Currently Available for Direct Purchase
Description
"The Inside Story of America's Ultimate Warriors" When Osama bin Laden was assassinated, the entire world was fascinated by the men who had completed the seemingly impossible mission that had dogged the U.S. government for over a decade. SEAL Team 6 became synonymous with heroism, duty, and justice. Only a handful of the elite men who make up the SEALs, the US Navy's best and bravest, survive the legendary and grueling selection process that leads to becoming a member of Team 6, a group so classified it technically does not even exist. There are no better warriors on Earth.
Don Mann knows what it takes to be a brother in this ultra-selective fraternity. As a member of Seal Team Six for over eight years and a SEAL for over seventeen years, he worked in countless covert operations, operating from land, sea, and air, and facing shootings, decapitations, and stabbings. He was captured by the enemy and lived to tell the tale, and he participated in highly classified missions all over the globe, including Somalia, Panama, El Salvador, Colombia, Afghanistan, and Iraq. As a coordinator for several civilian SEAL training programs, and as a former Training Officer of SEAL Team Six, he was directly responsible for shaping the bodies and minds of SEALs who carried out the assassination of Osama bin Laden.
But to become a SEAL, Mann had to overcome his own troubled childhood and push his body to its breaking point--and beyond. INSIDE SEAL TEAM 6 is a high octane narrative of physical and mental toughness, giving unprecedented insight to the inner workings of the training and secret missions of the world's most respected and feared combat unit.
About the Author
Don Mann (CWO3, USN) has for the last thirty years been associated with the Navy SEALS as a platoon member, assault team member, boat crew leader, or advanced training officer; and more recently program director preparing civilians to go to BUD/s (SEAL Training). Up until 1998 he was on active duty with SEAL Team 6. Since his retirement, he has deployed to the Middle East on numerous occasions in support of the war on terror. Many of the active duty members of SEAL Team 6 are the same guys he taught how to shoot and conduct ship and aircraft takedowns, and trained in urban, arctic, desert, river, and jungle warfare, as well as Close Quarters Battle and Military Operations in Urban Terrain. He has suffered two broken backs, two pulmonary embolisms, and multiple other broken bones, in training or service. He has twice survived being captured during operations.

Co-writer Ralph Pezzullo is a "New York Times" bestselling author and award-winning playwright, screenwriter and journalist. His books include "Jawbreaker" (with CIA operative Gary Berntsen).
Advertisement