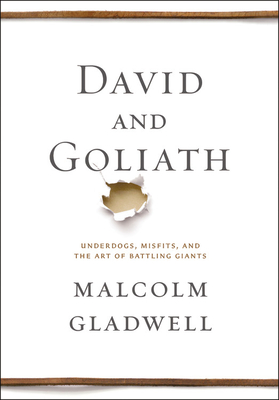 David and Goliath (Hardcover)
Underdogs, Misfits, and the Art of Battling Giants
Little, Brown and Company, 9780316204361, 320pp.
Publication Date: October 1, 2013
Other Editions of This Title:
Digital Audiobook (9/30/2013)
Paperback (4/7/2015)
CD-Audio (10/1/2013)
Hardcover, Large Print (10/15/2013)
Paperback, Spanish (10/31/2013)
Compact Disc (10/1/2013)
Prebound (7/31/2015)
Paperback, Vietnamese (4/1/2014)
Paperback, Chinese (12/23/2013)
MP3 CD (10/1/2013)
Pre-Recorded Audio Player (1/1/2014)
* Individual store prices may vary.
Description
Malcolm Gladwell, the #1 bestselling author of The Tipping Point, Blink, Outliers, and What the Dog Saw, offers his most provocative---and dazzling---book yet.

Three thousand years ago on a battlefield in ancient
Palestine
, a shepherd boy felled a mighty warrior with nothing more than a stone and a sling, and ever since then the names of David and Goliath have stood for battles between underdogs and giants. David's victory was improbable and miraculous. He
shouldn't
have won.
Or should he have?
In
David and Goliath
, Malcolm Gladwell
challenges how we think about obstacles and disadvantages, offering a new interpretation of what it means to be discriminated against, or cope with a disability, or lose a parent, or attend a mediocre school, or suffer from any number of other apparent setbacks.
Gladwell begins with the
real
story of what happened between the giant and the shepherd boy those many years ago. From there,
David and Goliath
examines Northern Ireland's Troubles, the minds of cancer researchers and civil rights leaders, murder and the high costs of revenge, and the dynamics of successful and unsuccessful classrooms---all to demonstrate how much of what is beautiful and important in the world arises from what looks like suffering and adversity.
In the tradition of Gladwell's previous bestsellers---
The Tipping Point
,
Blink
,
Outliers
and
What the Dog Saw---David and Goliath
draws upon history, psychology, and powerful storytelling to reshape the way we think of the world around us.
About the Author
Malcolm Gladwell has been a staff writer at The New Yorker since 1996. He is the host of the podcast Revisionist History and the author of The Tipping Point, Blink, Outliers, and What the Dog Saw. Prior to joining The New Yorker, he was a reporter at the Washington Post. Gladwell was born in England and grew up in rural Ontario. He now lives in New York.
Praise For David and Goliath: Underdogs, Misfits, and the Art of Battling Giants…
"Truly intriguing and inspiring, especially when Gladwell discusses 'desirable difficulties'....Gladwell's account of the journey of Dr. Emil 'Jay' Freireich is unforgettable." ---Hector Tobar, Los Angeles Times

"Provocative....David and Goliath is a lean, consuming read....The book's most crafty, engaging chapter ties together the Impressionist movement and college choices to highlight the fact that gaining admission to elite institutions, which we typically perceive as an advantage, is no guarantee of success." ---John Wilwol, San Francisco Chronicle

"As always, Gladwell's sweep is breathtaking and thought-provoking....I've long admired Gladwell's work." ---Joe Nocera, New York Times

"David and Goliath readers will travel with colorful characters who overcame great difficulties and learn fascinating facts about the Battle of Britain, cancer medicine and the struggle for civil rights, to name just a few topics upon which Mr. Gladwell's wide-ranging narrative touches. This is an entertaining book." ---Christopher F. Chabris, Wall Street Journal

"Fascinating....Gladwell is a master of synthesis. This perennially bestselling author prides himself on radical re-thinking and urges the rest of us to follow suit." ---Heller McAlpin, Washington Post

"What propels the book, like all of Gladwell's writing, is his intoxicating brand of storytelling. He is the master of mixing familiar elements with surprise counter-intuitions, and then seasoning with a sprinkling of scientific evidence....Gladwell is a master craftsman, an outlier amongst authors." ---Rob Brooks, Huffington Post

"Gladwell sells books by the millions because he is masterful at explaining how the world works---the power of critical mass, the arbitrariness of success, etc.---packaging his ideas in fun, accessible, and poignant vignettes." ---Lionel Beehner, USA Today

"Gladwell's most provocative book yet. David and Goliath challenges how we think about obstacles and disadvantages, drawing upon history, psychology, and powerful narrative talent to rethink how we view the world around us and how to deal with the challenges life throws at us." ---Susanne Jaffe, Columbus Dispatch

"The bestselling author behind the inventive Outliers, Blink, and The Tipping Point is back with another thought provoking theory that fascinates, entertains, and informs. He gives underdogs their due this time, challenging everything readers believe about facing-and conquering-life's stumbling blocks, using the 'real' story of David and Goliath and more to make his point." ---Celeste Williams, Fort Worth Star-Telegram

"Gladwell has made a career out of questioning conventional wisdom, and here he examines the allegedly unlikely triumph of the weak over the mighty and shows it's not so unlikely after all. 4 stars." ---Judith Newman, People Magazine

"The 50-year-old Canadian is a superstar, the most popular staff writer on The New Yorker and a hero in the frequent-flier lounge where journalism, social science, business management, and self-help hang out....It's a good story and he's got plenty more." ---Jeff Baker, The Oregonian

"Pop culture pundit Malcolm Gladwell is an idea blender, mixing concepts from vastly different sources (everything from business to science to the Bible) to produce new ways of seeing the world." ---Barbara O'Dair, Reader's Digest

"Engrossing.... Gladwell's singular gift is animating the experience of his subjects. He has an uncanny ability to simplify without being simplistic: clean and vivid Strunk and White prose in the service of peerless storytelling." ---David Takami, Seattle Times

"Contemporary society can't escape history when Malcolm Gladwell explains the world as he does with David and Goliath."---Jane Henderson, St. Louis Post-Dispatch

"In David and Goliath, Malcolm Gladwell explores the dynamics that inform and effect our everyday lives. By analyzing the Biblical account of the clash between David and Goliath, Gladwell presents a bold new interpretation of the lessons we should apply from it." ---Today Show