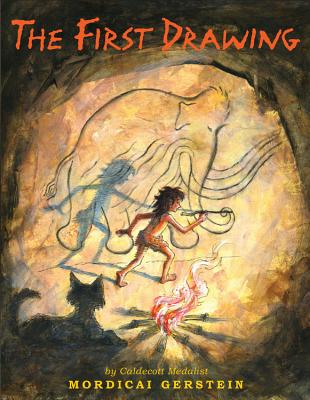 The First Drawing
Hardcover

* Individual store prices may vary.
Description
Imagine you were born before the invention of drawing, more than thirty thousand years ago.
You would live with your whole family in a cave and see woolly mammoths walk by!
You might even see images of animals hidden in the shapes of clouds and rocks.
You would want to share these pictures with your family, but wouldn't know how.
Who would have made the world's first drawing? Would it have been you?
In The First Drawing, Caldecott Medal winner Mordicai Gerstein imagines the discovery of drawing...and inspires the young dreamers and artists of today.
Praise For The First Drawing…
Fall 2013 Parents' Choice Award2014 CCBC Choices ListChildren's Book Committee at Bank Street College 2014 Best Book of the Year


"The much-admired illustrator Mordicai Gerstein performs a persuasive bit of magic in The First Drawing...[he] uses delicate ink over rough colorful acrylics in a visual echo of the way the fineness of artistic sensibility might have arisen in primitive Stone Age culture"—The Wall Street Journal

*"In this compelling picture book, Gerstein invites children to travel back in time more than 30,000 years to a cave in what is now southern France....Gerstein's illustrations of rocks, clouds, and shadows cleverly conceal animal shapes that both readers and the protagonist are compelled to discover."—School Library Journal (starred review)

*"Gerstein's mixed-media spreads feature a mostly blue and brown palette, and thin, rainbow-hued brushstrokes add texture and vividness....Artists see the world differently, but Gerstein suggests their true gift lies in allowing others to share in their visions."—Publishers Weekly (starred review)

"Gerstein's acrylic, pen-and-ink and colored-pencil mixed-media illustrations create depth and a sense of the past, as well as imparting liveliness and possibility...Solid storytelling, satisfying narrative circularity, and masterful, creative illustrations make this an inspiring story for young artists."—Kirkus

"The line, acrylic, and colored-pencil art, which fills up each spread, has the buoyant feeling of discovery and is clever in the way it turns imaginings into pictures. A way to think about the start of art."—Booklist

"Echoing the simplicity of cave drawings with simply sketched figures, Gerstein enhances them with expressive pen-and-ink detail and luminous acrylics and colored pencil, in hues from pure sky blue to firelight."—The Horn Book

"The story offers a creative approach to get kids thinking about that paradigm shift into artistic representation...Use this in an art class to spark consideration of the time before fingerpaints, refrigerator art, and even sidewalk chalk."—BCCB

[Gerstein's] illustrations are colorful and dramatic.— Library Media Connection
Little, Brown Books for Young Readers, 9780316204781, 40pp.
Publication Date: September 10, 2013
About the Author
Mordicai Gerstein is the acclaimed author and illustrator of more than forty books, many of which he also wrote. His books are frequently awarded ALA Notable status, and he is the three-time recipient of a New York Times Best Illustrated Book of the Year honor. In 2004, Mordicai was awarded the Caldecott Medal for The Man Who Walked Between the Towers. Mordicai lives in western Massachusetts.