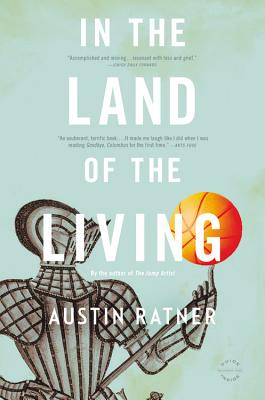 In the Land of the Living
A Novel
Paperback

* Individual store prices may vary.
Description
A dazzling story of fathers, sons, and brothers - bound by love, divided by history.

The Auberons are a lovably neurotic, infernally intelligent family who love and hate each other-and themselves -- in equal measure.

Driven both by grief at his young mother's death and war with his distant, abusive immigrant father, patriarch Isidore almost attains the life of his dreams: he works his way through Harvard and then medical school; he marries a beautiful and even-keeled girl; in his father-in-law, he finds the father he always wanted; and he becomes a father himself. He has talent, but he also has rage, and happiness is not meant to be his for very long.

Isidore's sons, Leo and Mack, haunted by the mythic, epic proportions of their father's heroics and the tragic events that marked their early lives, have alternately relied upon and disappointed one another since the day Mack was born. For Leo, who is angry at the world but angrier at himself, the burden of the past shapes his future: sexual awakening, first love, and restless attempts live up to his father's ideals.

Just when Leo reaches a crossroads between potential self-destruction and new freedom, Mack invites him on a road trip from Los Angeles to Cleveland. As the brothers make their way east, and towards understanding, their battles and reconciliations illuminate the power of family to both destroy and empower-and the price and rewards of independence.

Part family saga, part coming-of-age story, In the Land of the Living is a kinetic, fresh, bawdy yet earnest shot to the heart of a novel about coping with death, and figuring out how and why to live.
Praise For In the Land of the Living: A Novel…
PRAISE FOR IN THE LAND OF THE LIVING:

"In the Land of the Living made me laugh out loud, and it also left me deeply moved. Part vaudeville and part tragic opera, it dances and rages with uncommon wisdom, conveying the pain, comedy, and beauty of familial love across the generations."—John Burnham Schwartz, author of Reservation Road and Northwest Corner
Back Bay Books, 9780316206082, 336pp.
Publication Date: March 25, 2014
About the Author
Austin Ratner's first novel, The Jump Artist, was the 2011 winner of the Rohr Prize for Jewish Literature. His work has appeared in the New York Times Magazine and has been honored with the Missouri Review Editors' Prize in Fiction. He attended the University of Iowa Writers' Workshop.

Before turning his focus to writing he received his M.D. from Johns Hopkins School of Medicine and he is co-author of the textbook Concepts in Medical Physiology. He is Clinical Assistant Professor of Preventive Medicine at the Stony Brook University School of Medicine. He grew up in Cleveland, OH, and now lives in Brooklyn, NY, with his wife and two sons.