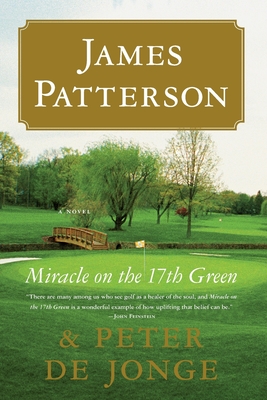 Miracle on the 17th Green (Paperback)
Back Bay Books, 9780316207119, 198pp.
Publication Date: May 15, 2012
Description
Travis McKinley's life has drifted sideways. His job, his marriage, even his children all feel disconnected and distant. Has he really accomplished nothing of consequence in his life? One Christmas Day, Travis plays a round of golf and finds himself for the first time in the zone--playing like a pro. In astonishingly short order, Travis is catapulted into the PGA Senior Open at Pebble Beach, where he advances to the final round. And while his wife, his children, and a live television audience watch, a miracle takes place that changes Travis, and his family, forever.
About the Author
James Patterson has had more New York Times bestsellers than any other writer, ever, according to Guinness World Records. Since his first novel won the Edgar Award in 1977 James Patterson's books have sold more than 300 million copies. He is the author of the Alex Cross novels, the most popular detective series of the past twenty-five years, including Kiss the Girls and Along Came a Spider. He writes full-time and lives in Florida with his family.
Praise For Miracle on the 17th Green…
"A fast-moving golf fantasy."
-Publishers Weekly

"Miracle on the 17th Green is...where miracles can happen to those who learn to dream again."
-Calgary Sun

"There are many among us who see golf as a healer of the soul and Miracle on the 17th Green, is a wonderful example of how uplifting that belief can be."
-John Feinstein, author of Are You Kidding Me?

"Even if you don't know a birdie from a putter you can still enjoy this sweet tale of a middle-aged golfer's extraordinary blossoming."
-The Evening Post (Wellington)

"This is a hopeful little gem, and you don't even have to like golf to enjoy it."
-BookReporter.com

"Entertaining."
-Kirkus Reviews

"A cross between It's a Wonderful Life and a masculine version of Sleeping Beauty."
-Library Journal

"Patterson and coauthor de Jonge add a new twist by melding a golf story onto a sentimental Christmas fable. The resulting plot is sort of Rocky Does the Senior Tour with just a hint of It's a Wonderful Life."
-BookList
Advertisement