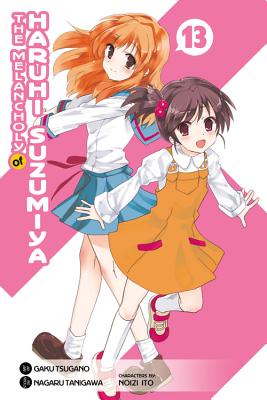 The Melancholy of Haruhi Suzumiya, Volume 13 (Paperback)
Yen Press, 9780316209496, 171pp.
Publication Date: August 21, 2012
Description
After months of squatting in the Literature Club's clubroom, the SOS Brigade puts pen to paper and starts writing some literature of their own The Brigade has just one week to create a literature newsletter if they want to keep the Lit Club's space from being reallocated by the student council. As each member prepares his or her contribution, Supreme Editor in Chief Haruhi keeps a watchful eye on her team, especially as Kyon's assigned romance story unfolds.
About the Author
Nagaru Tanigawa is a Japanese author best known for The Melancholy of Haruhi Suzumiya for which he won the grand prize at the eighth annual Sneaker Awards. Tanigawa is currently working on the tenth novel about Haruhi Suzumiya and the S.O.S. Brigade.
Advertisement