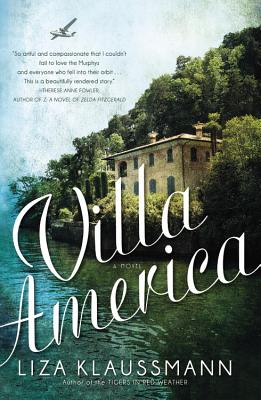 Villa America
A Novel
Hardcover

* Individual store prices may vary.
Other Editions of This Title:
Digital Audiobook (8/3/2015)
CD-Audio (8/4/2015)
Paperback (6/7/2016)
Description
A dazzling novel set in the French Riviera based on the real-life inspirations for F. Scott Fitzgerald's Tender is The Night.

When Sara Wiborg and Gerald Murphy met and married, they set forth to create a beautiful world together-one that they couldn't find within the confines of society life in New York City. They packed up their children and moved to the South of France, where they immediately fell in with a group of expats, including Hemingway, Picasso, and Zelda and Scott Fitzgerald.

On the coast of Antibes they built Villa America, a fragrant paradise where they invented summer on the Riviera for a group of bohemian artists and writers who became deeply entwined in each other's affairs. There, in their oasis by the sea, the Murphys regaled their guests and their children with flamboyant beach parties, fiery debates over the newest ideas, and dinners beneath the stars.

It was, for a while, a charmed life, but these were people who kept secrets, and who beneath the sparkling veneer were heartbreakingly human. When a tragic accident brings Owen, a young American aviator who fought in the Great War, to the south of France, he finds himself drawn into this flamboyant circle, and the Murphys find their world irrevocably, unexpectedly transformed.

A handsome, private man, Owen intrigues and unsettles the Murphys, testing the strength of their union and encouraging a hidden side of Gerald to emerge. Suddenly a life in which everything has been considered and exquisitely planned becomes volatile, its safeties breached, the stakes incalculably high. Nothing will remain as it once was. Liza Klaussman expertly evokes the 1920s cultural scene of the so-called "Lost Generation." Ravishing and affecting, and written with infinite tenderness, Villa America is at once the poignant story of a marriage and of a golden age that could not last.
Praise For Villa America: A Novel…
"Liza Klaussmann's VILLA AMERICA is so artful and compassionate that I couldn't fail to love the Murphys and everyone who fell into their orbit during those Lost Generation years, all of them fascinating and flawed and human. This is a beautifully rendered story."—Therese Anne Fowler, author of Z: A Novel of Zelda Fitzgerald

"What a gorgeous and profoundly moving book. I've been obsessed with the Murphys since I was a young teen...and Liza Klaussmann's novel felt both like it was utterly 'true' to their legend and yet also new and vital. I can't wait for the whole world to get to read it."—Megan Abbott, author of The Fever

"Klaussmann is a magnificent storyteller. Luminous, rich and superbly plotted, VILLA AMERICA swept me up into the deeply human, beautifully drawn lives of the Murphys and their dazzling circles of friends and family. This novel moves at a gallop but I kept stopping to marvel at the subtlety, the grace and the firework prose. I absolutely loved it."—Priya Parmar, author of Vanessa and Her Sister

"Another sensitive fictional portrait of a complicated marriage from the author of Tigers in Red Weather.... Klaussmann makes good use of several fine biographies of the Murphys (cited in an author's note) to capture the magic of a privileged, bohemian existence.... Beautifully written and surprisingly fresh."—Kirkus Reviews (starred review)

"Tense, seductive fiction.... Impressively done."—Sunday Times (UK)

"Real-life figures of the jazz age throw parties on the French Riviera in this exhilarating blend of fact and fiction."—Lucy Scholes, Guardian

"Psychologically lush and gorgeously descriptive.... As disruptive love, betrayal, and cruel fate slowly gain cyclonic force, Klaussmann brings to scintillating and searing life scenes as wildly diverse as a dust storm, trench warfare, the bliss of being airborne above the radiant French countryside, the brittle gaiety of Sara's galas, and forbidden sexual bliss. In literary accord with Paula McLain, Nancy Horan, and Susan Vreeland, Klaussmann presents an enrapturing historical novel about a loving marriage complicated by suppressed desire in a time of now-legendary creative ferment."—Donna Seaman, Booklist (starred review)

"Propelled by the drama-filled foibles of nearly every prominent lost generation figure a history buff could wish for, Klaussmann's atmospheric prose contains a treasure trove of trivia for fans of the era.... Readers who are looking for a trip back in time will find this an ideal beach read."—Publishers Weekly

"Intriguing and tender to the bone."—Kim Hubbard, People "Book of the Week"

"An enthralling read from the first page-an absolute must for anyone who loves Hemingway and Fitzgerald and all the rest of the Lost Generation."—Beatriz Williams, Serendipity

"Empathetic [and] beautifully written.... In Liza Klaussmann's skilled and sensitive new novel, the Murphys' famous sociability becomes intriguingly fraught, the expression of a loving, complicated marriage whose intricacies she investigates with the same emotional acumen displayed in her 2012 debut novel, Tigers in Red Weather."—Wendy Smith, Washington Post

"John Dos Passos, Cole Porter, Ernest Hemingway, and their spouses come alive in this richly detailed tale of friendships, creative rivalry, romance, drunkenness, and tragedy.... This is an engrossing read, sure to be popular with lovers of historical fiction who enjoyed Paula McLain's The Paris Wife."—Elizabeth Safford, Library Journal (starred review)

"A vivid and affecting portrait of the couple and their raucous times, as well as one of the saddest, most romantic historical novels you'll read this year. 'A'"—Amy Wilkinson, Entertainment Weekly

"Klaussmann's prose, like her main characters, sparkles with exuberance."—Historical Novel Society

"The novel has many truly lovely moments.... Worth a read for fans of the era."—Shawna Seed, Dallas Morning News

"One of the summer's loveliest reads."—Sherryl Connelly, New York Daily News

"Very much a novel about marriage.... A tribute to [the Murphys'] effort to create a paradise as well as a sorrowful recognition of the impossibility of doing so."—Margaret Quamme, Columbus Dispatch

"Compelling...[a] wonderfully textured account of the lives of Sara and Gerald Murphy."—Sukey Howard, BookPage
Little, Brown and Company, 9780316211369, 432pp.
Publication Date: August 4, 2015
About the Author
Liza Klaussmann is the author of Tigers in Red Weather, an international bestseller for which she won a British National Book Award, the Elle Grand Prix for Fiction and was named Amazon UK's Rising Star of the Year in 2012. A former journalist, Klaussmann was born Brooklyn, New York and spent ten years living in Paris. She currently lives in North London. Villa America is her second novel.
or
Not Currently Available for Direct Purchase