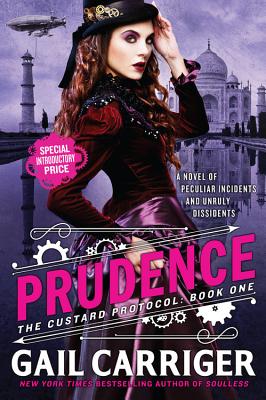 Prudence (Hardcover)
Orbit, 9780316212243, 368pp.
Publication Date: March 17, 2015
* Individual store prices may vary.
or
Not Currently Available for Direct Purchase
Description
Introducing the Custard Protocol series, in which Prudence travels to India for Queen, country...and the perfect pot of tea.

When Prudence Alessandra Maccon Akeldama ("Rue" to her friends) is bequeathed an unexpected dirigible, she does what any sensible female under similar circumstances would do -- she christens it the Spotted Custard and floats off to India.
Soon, she stumbles upon a plot involving local dissidents, a kidnapped brigadier's wife, and some awfully familiar Scottish werewolves. Faced with a dire crisis (and an embarrassing lack of bloomers), Rue must rely on her good breeding -- and her metanatural abilities -- to get to the bottom of it all...
The Custard Protocol
Prudence
Imprudence
For more from Gail Carriger, check out:
The Parasol Protectorate
SoullessChangelessBlamelessHeartlessTimeless
Finishing School (YA)
Etiquette & Espionage
Curtsies & Conspiracies
Waistcoats & Weaponry
Manners & Mutiny
About the Author
New York Times bestselling author Gail Carriger writes to cope with being raised in obscurity by an expatriate Brit and an incurable curmudgeon. She escaped small town life and inadvertently acquired several degrees in Higher Learning. Ms. Carriger then traveled the historic cities of Europe, subsisting entirely on biscuits secreted in her handbag. She resides in the Colonies, surrounded by fantastic shoes, where she insists on tea imported from London. The Parasol Protectorate books are: Soulless, Changeless, Blameless, Heartless, and Timeless. Soulless won the ALA's Alex Award. A manga adaptation released in Spring 2012 and a young adult series set in the same universe -- the Finishing School series -- launched in Spring 2013. Gail is soon to begin writing a new adult series, The Parasol Protectorate Abroad (2015).
Advertisement