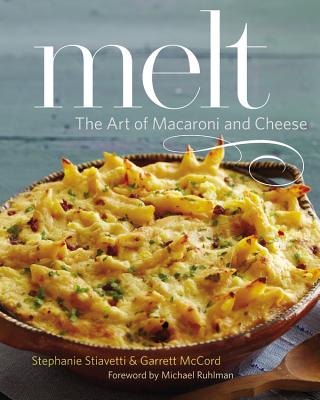 Melt
THE ART OF MACARONI AND CHEESE
Hardcover

* Individual store prices may vary.
Other Editions of This Title:
Paperback (2/9/2016)
Description
A cookbook that reinvents the American classic, macaroni and cheese, with gourmet ingredients, handcrafted artisan cheeses, and unique flavor combinations.

Melt: The Art of Macaroni and Cheese is the first book to marry the American standard, macaroni and cheese, with handcrafted artisan cheeses and a wide array of pastas, producing dishes that are both classic and chic. Home cooks of all levels will be encouraged to incorporate fresh, simple ingredients into the everyday comfort food they know and love.

Featuring such unexpected and delicious combinations as Beecher's Flagship Cheddar with Avocado, Lime, and Shell Pasta; Drunken Goat, Fennel, Edamame, Mint, and Rotini; and Pumpkin Stuffed with Fontina, Italian Sausage, and Macaroni, Melt takes mac and cheese out of the box and elevates it to a level that will delight even the most sophisticated palates.

With gorgeous color photography throughout, Melt is a compendium of inventive recipes that will add a fresh twist to the family dinner or play a starring role at your next dinner party.
Praise For Melt: THE ART OF MACARONI AND CHEESE…
"Melt is a cheese-lover's dream, with creative takes on pasta and cheese pairings of all sorts. . . . Garrett and Stephanie's intention [is] to broaden our minds and tastes, appreciating the classics while taking on new culinary territory. Bravo!"—Elise Bauer, founder of Simply Recipes

"This is not only a book filled with excellent info on cheeses and pastas and great recipes . . . it's yet another hopeful example of the way American cooks are raising the quality of the food we eat."—Michael Ruhlman, author of Ruhlman's Twenty

"Calling these recipes 'macaroni and cheese' is a little like calling Fred Astaire a 'hoofer.' Using fine cheeses from everywhere, pasta familiar and not so, imagination and more than a touch of whimsy, Stephanie and Garrett have created modern, sophisticated, beautiful food that satisfies the way the old mac and cheese did. It's almost a feat of magic."—Dorie Greenspan, author of Around My French Table

"In Melt, Stephanie and Garrett take a dish as beloved and familiar as macaroni and cheese and turn it into something positively transcendental. The classic comfort food we all grew up loving is turned upside down, inside out, and made more decadent than I ever imagined it could be. What I love most is that in this beautiful book, recipes such as Pastitsio with Kefalotyri and Lamb can live so harmoniously and unabashedly alongside a comfort food standby like Tuna Noodle Casserole. For ardent mac-and-cheese enthusiasts, look no further than these gorgeous pages!"—Ree Drummond, #1 New York Times bestselling author of The Pioneer Woman Cooks

"This is a gorgeous, entertaining, and exhaustive resource, with recipes not only for classic mac 'n cheese lovers, but also inventive takes on the theme, from a farfalle pasta salad with asparagus, ricotta salata, lime, and mint to a whole roasted pumpkin stuffed with Fontina, macaroni, and Italian sausage. McCord and Stiavetti have redefined the genre."—Molly Wizenberg, founder of Orangette and author of A Homemade Life

A cheese and pasta-filled tour du monde of macaroni & cheese. Cozy comfort foods at their best--with Melt: The Art of Macaroni and Cheese, you'll be grating, melting, and baking your way to soul-warming nirvana!—David Lebovitz, author The Sweet Life in Paris and Ready for Dessert

"With Melt, authors Garrett McCord and Stiavetti Stiavetti take the comforting concept of macaroni and cheese and push it to stratospheric heights. Packed with artfully written, deeply researched information on cheeses across the spectrum -- from the familiar to the exotic -- Melt delivers creative recipes that both seduce and inspire. This is one cookbook you'll definitely want on your shelf."—Cheryl Sternman Rule, author of Ripe: A Fresh, Colorful Approach to Fruits and Vegetables

"Who knew that two household ingredients-pasta and cheese-could inspire such mouthwatering variety? This book is proof that the best kind of culinary ingenuity gives home cooks more choice without added complexity. Easy never tasted so good."—Elaine Khosrova, editor-in-chief of Culture, the word on cheese

"Think macaroni and cheese is almost always the same? Think grilled peaches with Humboldt Fog and orzo. Homemade breadcrumbs. Fresh paneer. Mornay sauce that will leave you drooling. Melt made me hungry and happy. McCord and Stiavetti offer tips for choosing and storing cheese, as well recommended varieties of pasta for each recipe (including a brown rice pasta for those of us who have to eat gluten-free). If you don't want a big bowl of creamy macaroni and cheese after seeing this book, there might be something wrong with you."—Shauna James Ahern, author of Gluten-free Girl

"Melt is much more than a cookbook of mac and cheese recipes; it's a guide to a mac and cheese lifestyle. Sure, it's loaded with decedent variations on the classic, but it's the salads, seafood, and soufflé that will make you reconsider mac and cheese as mere comfort food. Stiavetti and McCord's use of sophisticated cheeses and thrilling flavor combinations make this book and its recipes exceptional and, thank cheeses, fun."—Kiri Fisher, founder of The Cheese School of San Francisco

"Ah, what a book! It combines the glories of pasta with the scrumptiousness of cheese in such delicious ways. This book taught me about Yodeling Goat cheese and how to experience it. I learned about chocolate pasta and how topair it with a cheese whose name sounds like a French superhero. With terrific recipes for sweet and savory dishes, this book is anything but ordinary! A must have."—Monica Bhide, author of Modern Spice

"Stephanie Stiavetti and Garrett McCord have created magic with this book, taking the beloved American classic, mac 'n cheese, into an exploration of regional and global flavors. From comforting Chili-Mac with Redwood Hill Smoked Goat Cheddar to a more exotic Paneer Korma with Idiyappam Noodles, there's a favorite in Melt for everyone of all ages. The book is much more than a collection of recipes--you'll also learn why Swiss cheese has holes and if blue cheese is gluten free!"—Jaden Hair, founder of Steamy Kitchen

"This is cozy comfort food at its sophisticated best."—The Tampa Tribune

Perfect for the cheese lover and creative cook.—SimplyRecipes.com

"Melt is the book of mac n' cheese recipes you know you want: creamy weeknight stove top creations, baked pasta dishes that will make your house smell amazing, and more than a few surprises that make justifying another dinner of macaroni and cheese even easier."—theKitchn
Little, Brown and Company, 9780316213370, 224pp.
Publication Date: October 22, 2013
About the Author
Stephanie Stiavetti is a writer, recipe developer, and culinary media maven residing in San Francisco, California. Her work has been featured on NPR, the Huffington Post, KQED, Culinate, and Serious Eats. You can find her online at TheCulinaryLife.com.

Garrett McCord is a freelance food writer, writing teacher, and recipe developer living in San Francisco. He has written for Gourmet Live, the Huffington Post, Epicurious, Cheese Connoisseur, and many other online and print publications. You can find him at VanillaGarlic.com.
Book Videos
or
Not Currently Available for Direct Purchase