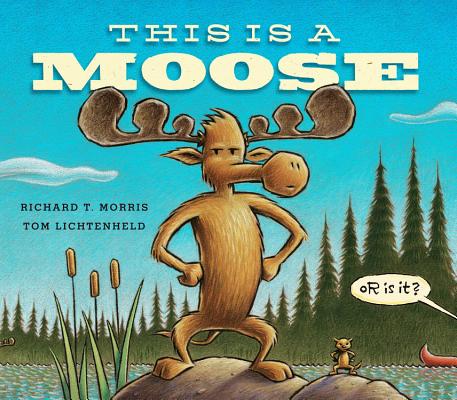 This Is a Moose (Hardcover)
Little, Brown Books for Young Readers, 9780316213608, 38pp.
Publication Date: May 6, 2014
* Individual store prices may vary.
Description
Lights Camera Moose
MOOSE? Yes, Moose When a movie director tries to capture the life of a moose on film, he's in for a big surprise. It turns out the moose has a dream bigger then just being a moose--he wants to be an astronaut and go to the moon.
His forest friends step in to help him, and action ensues. Lots of action. Like a lacrosse-playing grandma, a gigantic slingshot into space, and a flying, superhero chipmunk.
In this hilarious romp, Richard T. Morris and bestselling illustrator Tom Lichtenheld remind us to dream big and, when we do, to aim for the moon.
About the Author
In researching this book, Richard T. Morris lived for two years among a herd of wild moose in the Canadian Rocky Mountains, where he survived on roots and- cut! Sorry. He made this whole story up. Richard is actually the author of Bye-Bye, Baby! (Walker/Bloomsbury, 2009). He is also a regular contributor to Ellen Potter and Anne Mazer's Spilling Ink creative writing blog. He lives in New Jersey with his family. As a child, Tom Lichtenheld wanted to be a clown when he grew up. But when he found out that being a clown required riding around in a tiny car with a bunch of other clowns, he decided to become a children's book illustrator instead. Tom is the author and illustrator of What Are You So Grumpy About? and the illustrator of the New York Times bestselling book Shark vs. Train, which was a Publishers Weekly, Kirkus, School Library Journal, and Washington Post Best Children's Book of the Year. His other bestsellers include Goodnight, Goodnight Construction Site, Exclamation Mark, and Duck! Rabbit! He lives in Illinois with his wife. He invites you to visit his website at www.tomlichtenheld.com.
Praise For This Is a Moose…
Praise for This Is a Moose:Named by Amazon as one of Spring's Biggest Picture Books
* "Morris' story is filled with child-friendly humor that is cleverly matched by Lichtenheld's comic ink, pencil and gouache paintings. The pair captures personality (lots of it), action and adventure, along with some old-fashioned filmmaking tropes... Certain to elicit gales of giggles. A humorous-make that hysterical-homage to movies and big dreams."—Kirkus Reviews (starred review)

"With text in bold type and hand-lettered speech bubbles, this title will find itself in the hands of beginning readers as well as those who are a little more advanced. Created in ink, colored pencil, and gouache, the full-color, often full-page illustrations are hilarious, and Lictenheld's attention to detail will have kids scouring every page. The message to break down stereotypes and push past social constraints is clear but isn't delivered in a sappy, predictable manner. A perfect vehicle to introduce such topics in a safe and engaging way, this fun picture book be appreciated by students, teachers, librarians, and parents alike."—School Library Journal

"Morris (Bye-Bye, Baby!) and Lichtenheld (Steam Train, Dream Train) preside over loud and cheerful mayhem...Deadpan delivery, sharp timing, and Lichtenheld's antic artwork all contribute to high-octane entertainment that also addresses defying expectations, not to mention gravity."—Publishers Weekly